15 ideas to make money online and from home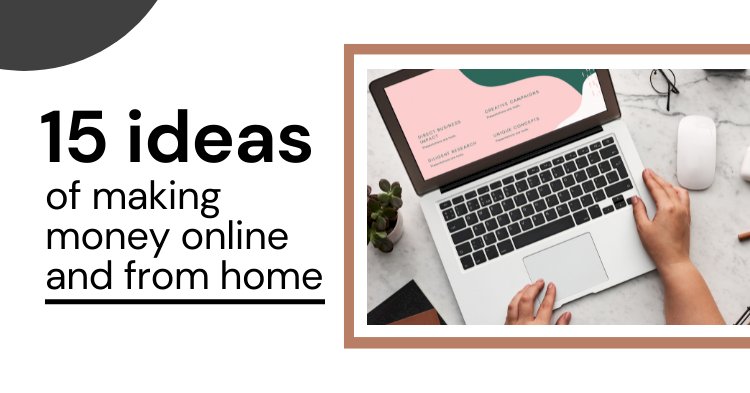 How to make money online?
Making money online and from home has been the increasing option everyone is looking for since the pandemic hit the world. According to Oxford Internet Institute, Pakistan holds the 4th position in freelancing which means that majority of the people have been making money online and just by working from home remotely.
If you are also looking to make money online then here are 15 legitimate ways that guarantee you to make money online and by working from home.
How to make money online?
Making money online has never been so easy, the world has become even smaller with the help of the internet. Now all you need is a device like a desktop or a laptop and a stable internet, whether you are a newbie or an experienced person, these ways can help you make money online.
Make money online by freelancing
Freelancing has been the most chosen way of making money online, it frees you from 9-5 clockwork and gives you a handsome amount of the effort you put into the work. Whether you have writing skills, video editing, graphic designing, digital marketing, web development, or any other skill, you can place your gig worldwide on platforms such as Upwork, Freelancer, Fiverr, and Flexjobs. Learn how to make money on Upwork and get started. You can either choose to do client-based projects or collaborate with an agency.
Pandemic slowed down the process of business in real but the E-commerce had a boom with online businesses emerging. Dropshipping emerged as a whole new business to make money online and from home. The biggest perk of dropshipping is that you don't need a physical warehouse neither you need a shipping service to handle it. You acquire the items online only when an order comes in and state the address as mentioned by your customer, this way you act as a middle man and keep the profit margin. Learn how to make money by dropshipping.
Pre-requisites for dropshipping are you need to have an online store where you can place your products for your customers to go through and receive orders. You can build your online stores with many platforms such as Shopify, WordPress, and Woocommerce. Learn how to dropship with Shopify and make money online from home.
Make money as a Virtual Assistant
A virtual assistant, as the name suggests, is an assistant who is no longer required in person or in the office but performs all the duties online. You can make money from home by providing these services of assisting a CEO, a manager at some firm, or an entrepreneur who just started their own business and need a hand.
Amazon virtual assistance is a term coined recently and gained much attention online but being a virtual assistant does not limit to this field only. You can be a virtual assistant and make good money by providing help in executive roles, admin roles, marketing roles, or even by scheduling appointments. Learn how to make money as an Amazon virtual assistant
Earn online with remote jobs
Those who are looking to make money with jobs but do not want to travel around can look for remote jobs that can allow them to work from home. Remote jobs, however, are not listed therein newspapers but there are multiple online platforms where one can look them up, some legitimate and known ones include LinkedIn, Indeed, Remote hub, and Flex jobs.
LinkedIn is considered to be a very professional networking platform where you can build strong professional relationships with people from your industry and even make money on LinkedIn by applying to remote jobs.
What if you are a good writer, you have a great chance of making money online, something that can keep funneling down the revenue for you is a digital book. Yes, an E-book, you can sell your book on platforms like Amazon, Lulu, or Google Play Books. Learning to publish and sell your book online can benefit you in the longer term since it keeps on generating money for you. If you are a starter, then going with Amazon Kindle is never a bad option since it's free to post there and it is a widely used platform by e-readers.
Make money online with affiliate marketing
Affiliating marketing is a process in which you are displaying the products of any other brand or business and driving traffic to their store through your social media page, website, or even a blog. You make money by the commission you earn by selling a product.
To become a good affiliate marketer, you need to have constant and stable traffic on your blog or website that turns into a greater funnel of leads and conversions. People of age as low as 13 can start this and turn it into a profitable business. You just need to have a good-looking, user-friendly website with a lot of visitors daily. Learn to make money as an amazon affiliate.
Make money as an Influencer
Social Media has a huge audience so if you are one of those who creates some really good content that adds value to the lives of people then you can turn your social media account into an 'Influencer' account. You can make money online by reviewing products, visiting places and reviewing their services, collaborating with other brands, and promoting their products on your page.
Being an influencer can be a very diverse thing therefore it is recommended that you choose a specific niche you are really excited about. This can be food, travel, apparel, automobiles, electronic gadgets or even any art craft, The choice goes on and on.
Making money by creating a Youtube channel can take a little longer time than you expect but do remember that it depends very much on the content and places you are targeting. The more you produce engaging and understandable content for your audience, the better reach your videos can get, eventually, your watch hours can be completed in a quicker way.
There are a couple of ideas for a Youtube channel, some of those are reviewing products, travel vlogs, food vlogs, movie or television show reviews, business consultancy, educational videos, and what not so.
Things you would be requiring to create a Youtube channel and make money online from home are a camera, a mic, a laptop, a stable internet connection, and some video editing skills, that's it. Consistency is something you surely don't wanna lose in the long run.
Take surveys to make money online
Making money online by taking surveys is also an option if you are looking to make some extra bucks, however, be very realistic about this source of income. Some of the don'ts while making money by this method are don't pay for filling a survey, don't expect immediate money, don't invest too much time in this activity, be realistic about the approach, and do not depend on this single source.
There are many survey platforms where you can make money online and from home, these include Google Opinion rewards, survey junkie, my points, and one opinion.
Another way of making money online and from your home is by investing a small amount while buying a domain and then you can sell it later at your desired price. This process is not an instant return on investment since you never know the domain you are buying would be of the immediate need to someone in the market. A common suggestion in this practice is to keep the domain name simple and relevant to the market or niche after carefully going through the strong keywords.
How to make money from home?
If you prefer to work from home and make money online, then this is definitely for you. Here are 5 legitimate ways with which you can make money online, these include either working from home or running your own business.
Make money by selling on Etsy
Etsy is one of the most popular online selling platforms, you can make a sales funnel by showcasing your physical or digital products. Etsy ranks your listings based on the relevance and quality of the product. The good thing with Etsy is you can make money online by selling digital products that can be modified and updated with time, keeping your sales funnel secure and making it more demanding.
Some ideas for selling on Etsy include handcrafts and decor items, wedding products, journals, books, t-shirts, and even digital artwork. Learn to make money online with Etsy by selling digital designs.
Photos are something of great need to almost every industry because visuals attract more people than just words on a blank paper, you must have heard the phrase 'A picture speaks a thousand words'. You can even make money online by selling photographs, some of the legitimate platforms that can help you achieve this are Pexels, Shutter stock, and Unsplash.
Producing the photographs with your signature niche can help you achieve a loyal and encouraging community, think of what people can be looking for in the photographs, usually, they are looking for a story to resonate with.
Start an online business and make money from home
Building an online business is something you can always opt for without any hesitation, you just need some starter skills and the rest can be gained while you move through the journey. Although there is risk involved in the process the reward can be so tempting you wouldn't want to miss the whole process.
Online businesses can depend on what you really like to dive deep into, it can be an E-commerce business, a consultancy business, health, and fitness business, you just name it. Pandemic has transformed many physical businesses into online ones. Making money with an online business is not one day's effort, it is a continuous process of hit and trial while gaining the trust of your customers. You could start a jewelry business, you could sell scented candles, and you could open an apparel store. Brainstorming is the foremost step you want to take before leaping into the online business and identifying what are the market gaps and how you can remove those. Learn to make an E-commerce store and make money online.
Start a consultancy agency
If you have been working in a specific field for quite a time then you can make money online by providing consultancy services in the same field from your home. Whether you have been working in any law agency, digital marketing agency, or working solely having any specific skills, the world is out there in search of experts in their relevant fields. Grow a consultancy company and make the most out of your business.


Rent your apartment online
You can make money online if you have a spare apartment somewhere, you can list it on any online platform and collect the rent through an online payment. This way you can make the best use of your property that is not of use but can still generate you extra bucks, you might need to refurnish the apartment after a specific span of time but if it generates you a handsome amount then why not go for the rental business.
There are some legit platforms and the most trusted of them all is Airbnb, make money online by listing your apartment on Airbnb.
Making money online is something everyone dreams of but sometimes forgets that this also requires sweat and blood, if you choose any of these methods, you need to put work into it and have patience while you start growing.