23 Dead, As Metro Collapses Onto A Road In Mexico City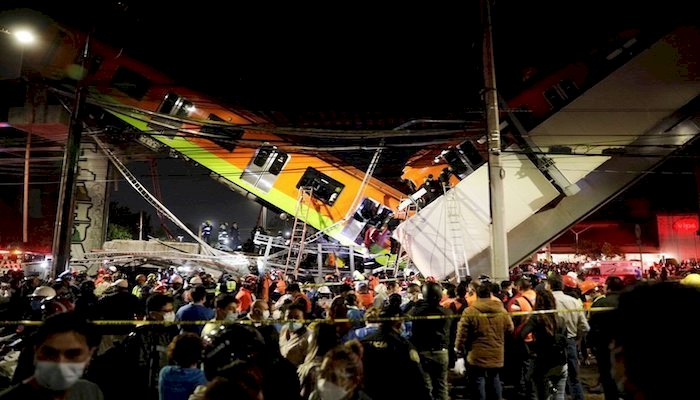 The bodies of the victims have been retrieved by the Emergency services on Tuesday from the wreckage of an elevated metro line that collapsed in Mexico City. As a result, 23 lost their lives and dozens were injured.
The authorities suspended rescue efforts soon after they began, stating that there was a chance that train parts and debris could fell onto the road.
President Andres Manuel Lopez Obrador assured a deep investigation into the cause of the accident as it raised questions regarding construction standards.
In the picture, carriages can be seen hanging from the metro overpass in the south of Mexico City in a tangle of twisted cables and the ends pointing towards the ground in a V-shape.
According to Mexican capital Mayor Claudia Sheinbaum, several youngsters were among the 23 dead. A crane was stabilizing the train carriages so rescuers could continue their search for survivors.
"We will reveal the truth. Our support is with all victims," Sheinbaum tweeted.
Almost 80 others were taken to the hospital following the tragic accident, one of the worst to hit the Mexico City metro.
A person who was trapped in his car underneath the debris had been rescued alive and was rushed to the hospital.
"Suddenly I observe that the structure was shaking," stated an unidentified witness. "When the dust cleared, we ran to check if we could provide any help. There were no screams or cries, maybe they were in shock," she elaborated.
Read more: Taiwan Train Tragedy Leaves 36 Dead, Several Injured
The metro line that partially collapsed was built when Foreign Minister Marcelo Ebrard, was mayor of the capital from 2006-2012.