Yaum-e-Ali Processions Taken Out Countrywide Despite The Ban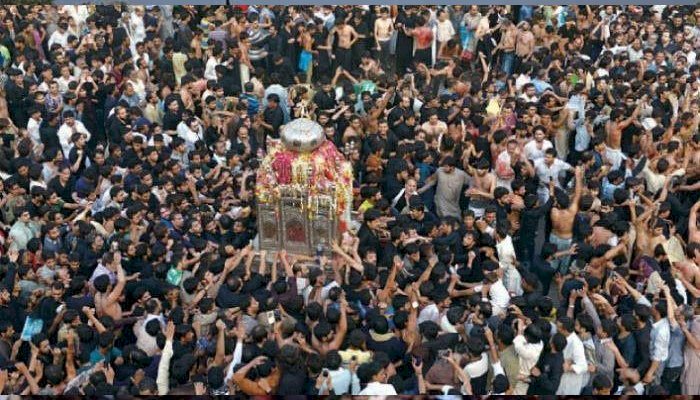 Marking the martyrdom anniversary of Hazrat Ali, a large no of people took part in processions and majalis across the country on Tuesday despite a ban imposed by the government on religious processions to curb the spread of coronavirus.
Observing fast, the mourners attended majalis in black clothes to remember the life and martyrdom of Imam Ali before marching on traditional routes in strict security arrangements.
In Karachi, all those who were part of the main Yaum-i-Ali procession were checked and sanitized by scouts at barriers before attending the majlis at Nishtar Park, which was addressed by Allama Syed Shehanshah Naqvi at 6.30 am.
The participants wearing facemasks and keeping a distance began their journey from Nishtar Park. The procession ended at the city's Imambargah Hussainian Iranian in Kharadar at 11.30 am, too earlier as compared to previous years.
On the other hand, in Hyderabad, the Yaum-i-Ali procession was held in the afternoon. Allama Syed Aale Bilgrami addressed the majlis before the procession began along with the replica of Hazrat Ali's mausoleum from Karbala Dadan Shah at around 3 pm. The mourners kept reciting nohas as the procession passed different city areas. It culminated at Qadam Gah Maula Ali before the sunset amid strict security arrangements.
The whole procession route remained sealed with barbed wire. Police and Rangers personnel provide security to the procession.
Due to the earlier announcement of the administration for the modified business timings for several markets, shopkeepers resumed their commercial activities after the procession passed through the area.
Mourning processions were also held in other Sindh cities including Badin, Mirpurkhas, Sukkur, and Jaccobabad where securities arrangements were made by law enforcement agencies. The processions took place at different times of the day. In Sukkur and Jaccobabad, per instructions of administrations, all markets were closed in the afternoon, whereas the procession in Mirpurkhas was held early morning.
In Lahore, according to the official's estimation, between 8,000 and 10,000 people participated in the mourning procession, blowing fears about the spread of coronavirus.
"I am part of this procession every year for as long as I can remember," stated Ali Kazmi, 28, who was a participant in the procession in Lahore. "They try to stop Shia mourning processions through different excuses. It is Coronavirus today, but before that, it was the issue of security. It's all lame excuses," the mourner believed.
Read more: KP Minister under Hot waters for violating COVID SOPs
Smaller processions were also held in major cities across the country.