A devastating fire at Rohingya camp, Bangladesh kills 15, leaves 400 missing: UNHCR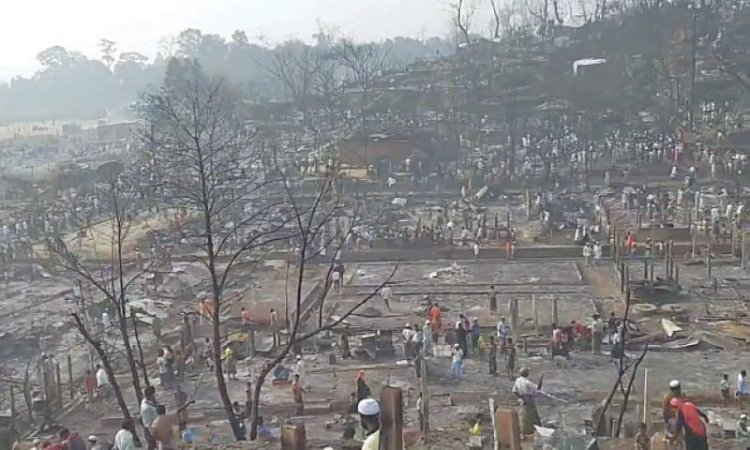 At least 15 people have been killed in a huge fire that grabbed the Rohingya refugee camp in Bangladesh, whereas at least 400 remain missing, as stated by the UN refugee agency said on Tuesday.
According to UNHCR's Johannes Van der Klaauw, who joined a Geneva briefing virtually from Dhaka, Bangladesh. "It is huge and devastating," he said, "We still have 400 people missing, maybe somewhere in the debris."
He stated the UNHCR had reports of over 550 people injured and almost 45,000 displaced.
Bangladeshi officials are inspecting the cause of the fire and aid workers and families examining the debris to find further victims. The fire blew up at the Balukhali camp near the southeastern town of Cox's Bazar late on Monday. Thousands of shanties burnt as people struggled to save their scanty possessions.
As stated by Aman Ullah, a Rohingya refugee from the Balukhali camp, "Everything has gone, and several are without homes. The fire was brought under control after six hours, but many parts of the camp could be observed smoking all night long." So far, authorities in Bangladesh have confirmed 11 deaths.
After visiting the camp, Mohammad Mohsin, secretary of the Ministry of Disaster Management and Relief said that around 40,000 huts in the camp were burned down.
He told reporters in Cox's Bazar that two major hospitals of the International Organisation for Migration (IOM) and the Turkish government were also demolished. "A committee comprised of seven members has been formed to investigate the matter," he said.
Sanjeev Kafley, the International Federation of Red Cross and Red Crescent Societies' delegation head in Bangladesh, stated that over 17,000 shelters had been destroyed and millions of people displaced.
More than a thousand Red Cross staff along with volunteers worked with fire services to extinguish the fire. It spread over four sections of the camp which contained approximately 124,000 people, he said. That indicates almost one-tenth of an estimated 1 million Rohingya refugees in the area, Kafley mentioned.
Read more Three children found slaughtered in Quetta
According to the Humanitarian organisation Refugees International, around 50,000 people had been displaced, and the extent of the damage may not be known for some time.