Bundal Island; A dying Hope For Karachi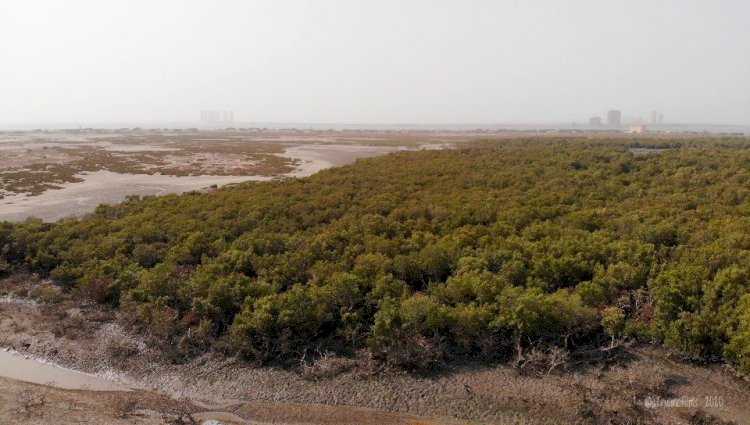 Renowned architecture, nature conservativist, and activist Tariq Alexander Qaiser have urged the government to declare Bundal Island as a marine protected area.
He also shared his documentary pieces in the form of evidence to support and highlight the imminent threat that mangrove forests around Karachi's coast face. He specifically mentioned those endangered mangroves around Khiprianwala and Bundal Island.
In a webinar arranged by Aga Khan University's Sixth Sense Forum on Tuesday, Qaiser pointed out the importance of Bundal, its forest, and the illegal cutting of those forests. The online seminar was titled 'Karachi's Hidden Forest on the Edge of Delta.
Qaiser mentioned that in the past few years the illegal cutting has dramatically increased so much that the ecology is highly disturbed.
"The island of Bundal is extremely important as it has dense forests. In recent winter, we found the whole island resounding with the noise of chainsaws, scaring migratory birds away. It needs to stop," said Qaiser, as quoted by Dawn.
He also recognized that locals also use the wood of mangroves however it is rather sustainable compared to recent growth in the cutting of wood for industrial purposes which is one of the causes of increased pressure on the environment and alarming level of disturbance in ecology.
Tariq Alexander Qaiser emphasised on the need for green spaces in Karachi and these island's around the metropolitan coast should be preserved for this cause.
"If we are to live in this city with a certain quality of life and breathability of life then these are the very places [we should invest in for ourselves and future generations]," Tariq said, as quoted by Dawn.
Read More: CM Approves Procedure Of Flats' Allotment In LDA City
He further added, "I feel so strongly that we have an opportunity to make a difference. If there is a will within the establishment and government, we can create a green, ecologically friendly place. It's an opportunity that needs to be grabbed."