Countrywide road closures as TLP's protest continues in Pakistan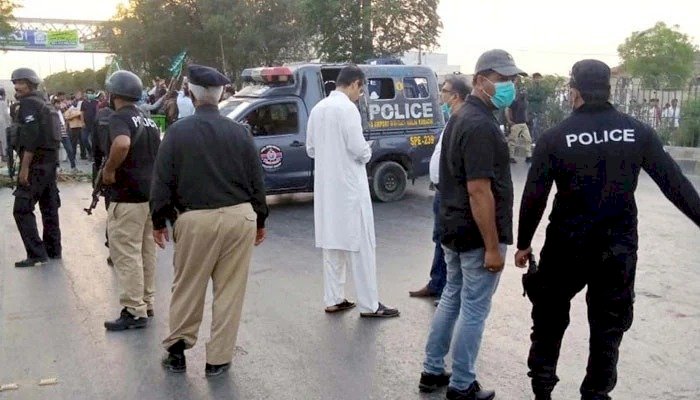 Nationwide protests by a major religious party Tehreek-i-Labbaik Pakistan (TLP) continued their second day on Tuesday in different cities, including Karachi, Lahore, Rawalpindi, Islamabad, and Multan, while the protests wrapped up in some areas. TLP chief, Saad Hussain Rizvi has been detained by security forces in Lahore on Monday.
In Punjab, paramilitary forces came over to control the situation. Bhatta Chowk and the Shanghai flyover in Lahore are closed for traffic. Murree Road in Rawalpindi has not been opened yet after Monday's protest.
The traffic flow was interrupted in several areas in Lahore, such as Chohang and Multan road because of protests. Police fired tear gas shells to disperse protesters in the Chowk Yateem Khana area.
In Karachi, four areas have been closed for traffic including Orangi Town No. 5, Baldia No 4, Stargate, and Korangi No 2 as per the traffic police. In the meantime, the protest near Tower Chowk, Jinnah Bridge, and Hassan Square has ended.
During Monday's protests, several passengers were unable to reach the airport. A Pakistan International Airline (PIA) flight was also delayed as 40 passengers didn't reach the airport on time. It was scheduled to fly from Karachi to Lahore.
In the meantime, a private company's plane was also delayed and took off for Lahore from Karachi after an hour. The PIA plane's staff scheduled to fly to Dammam, Saudi Arabia, was also failed to reach the airport, as per the sources.
The traffic police have requested citizens to take alternative routes to avoid inconvenience. Because of Monday's protests, the traffic system on the main highways of Karachi was disrupted. After 5 pm, long queues of vehicles formed at Tower, II Chundrigar Road, MA Jinnah Road, Zainab market, Governor House, Sharae Faisal, Liaquatabad, and other places.
Read more: Hunger strike By Pakistan Medical Students Outside PMC, Islamabad
Thousands of people were stuck for hours. Due to the protest near Stargate, the traffic flow on both the incoming and outgoing tracks of the airport was suspended which made it very difficult for passengers to reach the Karachi airport.