Hunger strike By Pakistan Medical Students Outside PMC, Islamabad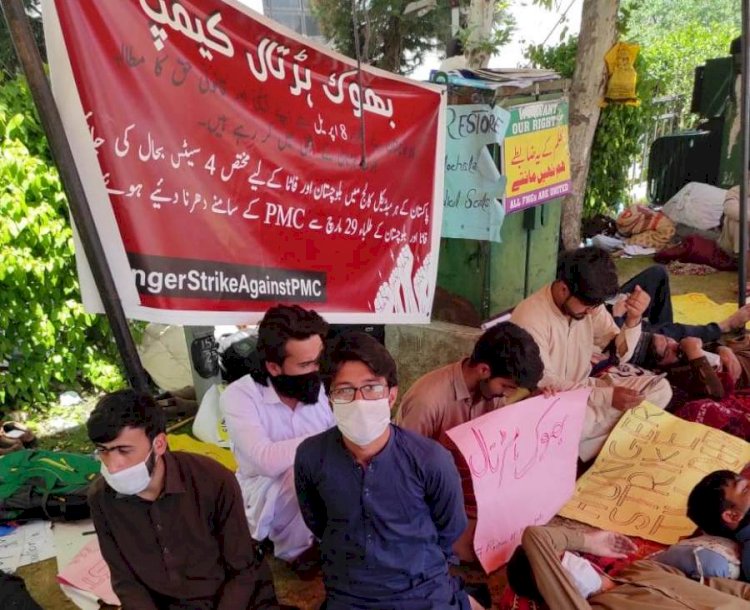 Medical students from the tribal areas of Khyber Pakhtunkhwa and Balochistan have converted their two-week-long protest into a hunger strike outside the Pakistan Medical Commission (PMC) in Islamabad.
As per the protesters, the PMC has been assigning 265 seats to students from tribal districts and Balochistan since 2015. But this time, they are only allotting 29 seats.
Ali Wazir, a student said, "These seats are reserved for the colleges of Khyber Pakhtunkhwa, whereas all the spaces at other colleges and varsities across the country have been filled".
As stated by another student Asif Mehsood, the students have been protesting on the streets since March 29, but no action has been taken by the government so far to help them.
The protesters said that they will bring this issue to Senate and promised not to move anywhere unless their demands are fulfilled. "We have run-short-of money now and are hence going on a hunger strike," they said.
According to PTI MNA Sajid Khan, he has filed a move against PMC's negligence in the privilege committee. The matter is now part of the agenda and will be taken over in a meeting next week, he said.
Read more: Indonesia Offers 1,000 Scholarships To Pakistani Students
"We also want to fulfill the demands of the students," Khan added. "The government is trying its best to adjust the students this year and is making a plan of action for the future."