DPO Sonia Shamroz is dropping the suicide rate in Chitral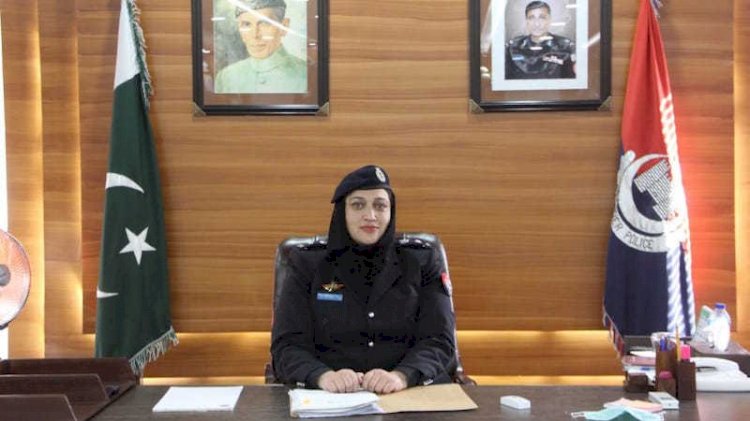 This Women's Day we're paying homage to the strong women who are making our communities safer for everyone, especially women, to live and thrive in. One such figure is Khyber Pakhtunkhwa's first woman District Police Officer (DPO), Sonia Shamroz, who recently became part of the Chitral police.
Brought up in a strong and encouraging family which gave confidence to Shamroz and her four sisters that nothing was unachievable for them. Years later, that encouragement drove Shamroz on her path to become the first woman DPO in Khyber Pakhtunkhwa.
Less than two percent of the overall police force in Pakistan are comprised of women with the percentage even lower in Khyber Pakhtunkhwa. It not only states volumes about Shamroz's willpower but also gives us an idea of the challenges and obstacles she must have faced on this journey.
Shamroz grew up in a family where none of the family members were government employees. She found an opportunity to study at Army Burn Hall College. There, the discipline and the uniform inspired her and she appeared for the CSS exams due to that inspiration.
After appearing in CSS exams, did start the difficult part of her life as Shamroz was the first woman with a child and train to be a police officer. But thanks to a supportive husband and in-laws, who handled her daughter during her tough time of training and she was able to complete it.
Her first assignment was as an assistant superintendent of police in Mansehra, which opened the doors of huge learning opportunities for her. "In Mansehra, I visited crime scenes and we caught criminals, which changed the way the public perceived women police officials", she told.
Shamroz has also served in Oghi and Abbottabad and also appointed as principal of the Police Training School in Mansehra. She was then selected as a Chevening Scholar to study Violence against Women and Conflict at York University in the United Kingdom.
She also took part in a training session on disaster response organised by the United Nations Development Programme Pakistan Amn-o-Insaf Programme, and recently joined the Chitral Police as a DPO.
According to her, this city is facing two main issues: the first is a high suicide rate with a majority of the victims being women. The second issue is the prevalence of 'down district marriages',
To handle these issues, Shamroz has operationalised three gender-responsive desks (GRDs) at model police stations established by the UNDP's Amn-o-Insaf Programme with support from European Union in Lower Chitral and appointed women officials at these desks to let women conveniently discuss their problems.
More than 100 cases have been successfully solved since operationalising these desks in January.
A social worker from Lower Chitral was getting a lot of harassment calls from different numbers. She decided to contact the women desk. DPO Sonia and officer Dilshad Pari investigated the matter and in a short time, they caught the culprit and punished him.
Read more Biden nominates Dilawar Syed as deputy head of US agency on small businesses
She believes that increasing women's representation in law enforcement is vital. Women comprised almost half of Pakistan's population and to facilitate women complainants, more women must be part of police force.