Woman Drives A Car With Swarm Of Bees, Photo Goes Viral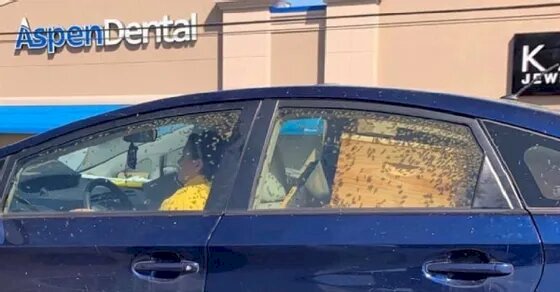 It could be the most bizarre thing you have seen recently but it may also be very real.
A picture of a woman driving a car filled with a swarm of bees has created quite a buzz on the internet.
The woman behind the wheels was snapped by someone named Jocelyn Jordan. She saw the unnamed woman driving her bee-filled Toyota Prius in Alabama on March 19th.
The picture appears to show a wooden hive in the car's back seat, with thousands of bees filling the vehicle's interior and windows. But, the woman seemed to be completely undisturbed by the bees.
Also Read: Empowering Women, PSO Hiring Female Pump Attendants
Some eyewitnesses said that the woman was having a conversation on the phone while the bees buzzed around her.
"I just about died. I understand the hives have to be transported, but surely there's a way to keep them contained!" said Jocelyn, who took the viral photograph.