Durdana Ansari (Asim Azhar's Aunt ) Becomes British Royal Navy's First Muslim Female Captain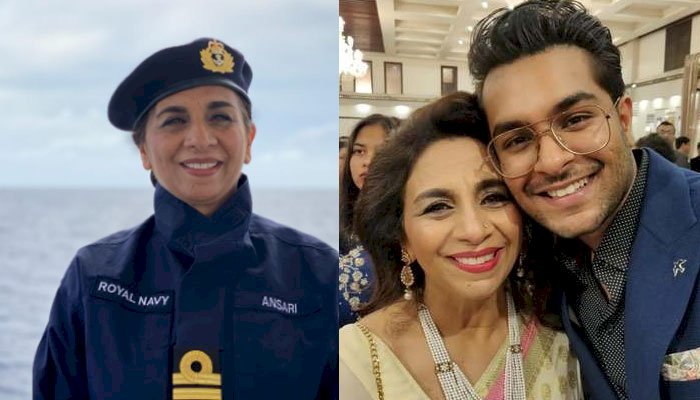 Asim Azhar's maternal aunt, Durdana Ansari, has achieved a milestone for the nation, and the vocalist is too excited about it.
The singer's aunt makes history by becoming the first Muslim as well as the first Pakistani who gets ranked as a Captain by the British Royal Navy in the world.
The news has been shared officially by Asim Azhar himself, who tweeted on Tuesday to announce the honour achieved by his beloved aunt.
"Today is a proud and special moment not just for me or my family, but for the entire nation," stated the singer.
"Durdana Ansari OBE (Order of the British Empire) becomes the first Muslim & Pakistani female in the world to get graded as a Captain of the British Royal Navy approved by the Queen," elaborated Asim.
"I'm so proud of you Khala Jaan," Asim praised his aunt before concluding his note.
Ansari, a former BBC current affairs producer, has also been awarded OBE by the queen in 2012 for founding an economic development programme for Muslim women and got a promotion on July 8.
Upon acknowledging the congratulatory messages, Ansari took to her social media to say thanks to her nephew. "I feel humbled beta Asim on receiving this honour. I've been much blessed with my parents' prayers, Allah, and the huge support by the Sea Lord, Her Majesty Queen Elizabeth 2nd and most of all our nation, the real people who believe in us," stated her. "I'm proud of you," she wrote.
Read more: Pakistani Singer Arooj Aftab Appears on Obama's 2021 Summer Playlist
She was born in Bahawalpur, Pakistan, and brought up in Islamabad. After that, she shifted to London where she got her degree in media and journalism from Birkbeck University. She was selected as 'Hon Lt Cdr' in 2018 and got a promotion in 2019 to 'Hon Cdr Royal Navy'. She is the sister of Azhar's mother Gul-e-Raana, the renowned TV actress.