Emirates Airline Launches Expo 2020 Themed Aircraft.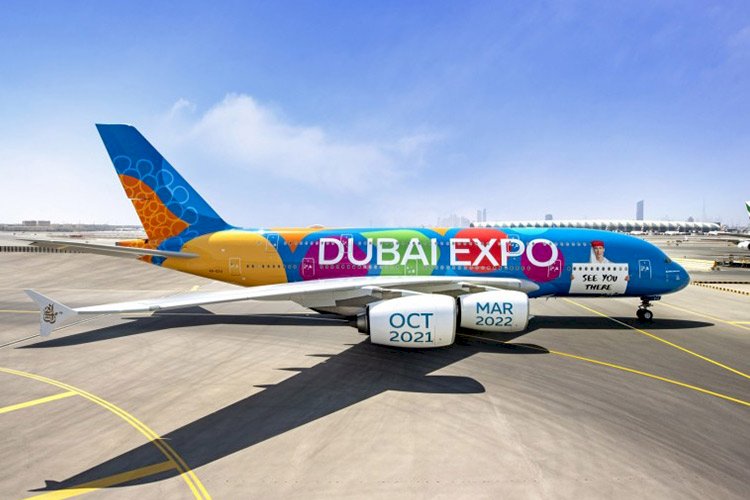 Emirates Airline has unveiled the first "nose-to-tail" livery for one of its A380 aircraft, with a colorful theme promoting the Dubai Expo 2020.
The colorful themed aircraft features large scales features in green, pink, blue, purple, and as well as the logo of Dubai Expo 2020.
The design covers the entire fuselage and all the way up to the tail and fin interlaced with the distinct ring-shaped Expo 2020 Dubai logo. The engine cowls also carry the Expo 2020 Dubai messages and dates of the event.
A special message run across both sides of the A380 aircraft is 'Dubai Expo' and 'Be Part of the Magic'.
According to Emirates, The process of painting and designs took 16 days and 4,379 man-hours to complete. Emirates added, "The new Expo 2020 Dubai livery will appear on three Emirates A380 aircraft to help visually tell the story and reaffirm the themes of one of the largest global events to take place since the onset of the pandemic."
Read More: World's Largest Holy Quran To Be Display At Dubai Expo.
Expo 2020 Dubai is the first World Expo ever hosted in the Middle East, Africa, and South Asia region, and will run from October 2021 to March 2022. It will be a grand event, which will witness 60 shows every day, and will have 191 country pavilions, and will have more than 200 restaurants at the venue.