Federal Government Privatizes PIMS Islamabad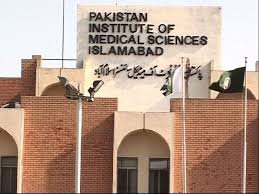 On Monday, the federal government announced the privatization of the Pakistan institute of medical sciences under the medical institute ordinance. Following the announcement now the patients visiting the hospital will have to pay the hefty check-up fees as of other private hospitals.
A spokesperson from PIMS informed that after the approval of MIT now the public visiting the hospital will pay for their tests and medical check-ups.
Before the ordinance, the hospital offers its medical facilities to the public for very little or almost no fees. The cancer patients who are not accepted to Shaukat Khanam Hospital were previously treated in PIMS free of cost. But under the new action of privatization now those patients have to pay their heavy medical bills themselves.

Read More: Khyber Teaching Hospital's Oxygen Shortage Incident Report Is Ready
PIMS employees have been protesting against the ordinance for the last eight days and have now increased the scale of their protest and moved to Islamabad press club. They have also invited different worker unions and medicals unions in Islamabad to join them in the protest outside the Islamabad press club.