Khyber Teaching Hospital's Oxygen Shortage Incident Report Is Ready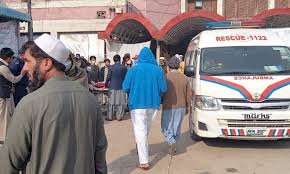 The initial investigation report on the oxygen shortage case in Khyber Teaching Hospital which led to the death of six critically ill Covid-19 patients has been submitted.
Special Assistant to Khyber Pukhtunkhwa Chief Minister, Kamran Bangash has tweeted the copy of the reports today. He said that a meeting chaired by CM Mahmood Khan will review the report and take important decisions.
As per the report, 7 officers have been suspended. The Director of Medical Training Institute Hospital Dr. Tahir Nadeem Khan is also amongst those suspended.
On the late-night of 5th December, six patients lost their lives because of an oxygen shortage incident at Khyber Teaching Hospital in Peshawar.
Five of the dead patients were Covid-19 patients and one was in the Intensive Care Unit (ICU).
The report concluded that the hospital has a storage tank of 10,000 cubic meters but there are no backup storage units as required by the Health Technical Memorandum.
It was found that the hospital's contract was with Ms Pakistan Oxygen Limited which hadn't been renewed or extended since it last expired on 30-June-2017. However, the supply chain manager confirmed a verbal extension with the company via telephone till 30th June of 2020.
The report stated the Khyber teaching hospital's oxygen tanks were last filled on 4th December and only 3040 cubic meters were filled which is less than the required level.
Read More: Kashmiri Sisters Arrested By Indian Troops For Inadvertently Crossing LoC
The report also found that staff stationed at the plant were missing at the time of the incident.