Another Minor Yasmeen Beaten By The Landlord In Faisalabad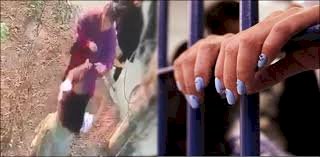 A 13-year-old girl was treated harshly by a landlord when a crockery item was accidentally broken by her on Sunday.
A girl, Yasmeen, was recovered by the police and was found as a missing child. When the police asked about her address and location, the poor girl described all the turbulence she had gone through at the house of a former Nazim in People's Colony No.2 in Faisalabad.
The girl was beaten as a result of breakage of a crockery item and when the girl underwent an initial medical examination, it was found that she had severe marks on her head, face and legs as a result of the torture, narrated by the police.
The victim was moved to Batala Colony police station, where the police further investigated and discovered that she was mistreated by a wooden rod.
The further procession would be carried out against the wife of former union council's Nazim Usman, named Aasma.
Read More:Women Caught Driving Stolen Vehicle
The custody of Yasmeen would be taken by the child protection unit of the Punjab Government and more investigation would be performed against the accountable persons behind this cruel act.