How To Cook Chicken Alfredo Pasta? An Original Recipe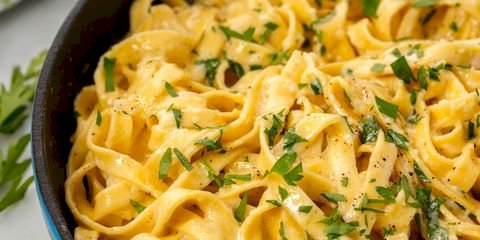 This genuine Alfredo pasta recipe is originally made with the easiest, yet the creamiest sauce. Cooked penne pasta is topped with Alfredo sauce that is made with a fusion of milk, cream, oregano, thyme, and mushrooms. All these ingredients are blended together for a delicious and tasty sauce that adds to the authenticity of the dish. If you're doubtful about what to cook for a special weekend, you must try this recipe for sure!
INGREDIENTS FOR ALFREDO PASTA
To prepare chicken
o Butter: 1 Tbsp
o Chicken Boneless: ½ KG
o Garlic Cloves: 2– 3, Chopped
o Onion: ½ Chopped


To prepare the sauce
o Butter: 1 Tsp
o Mushrooms: 2 – 3, Sliced
o Milk: 250 Grams
o Cream: 1 Cup
o Salt: To Taste
o Black pepper: To Taste
o White Pepper: ½ Tsp
o Thyme: ½ Tsp
o Oregano: ½ Tsp
o Chicken Powder: 1 Tsp
o Black Olives: 4 – 5
o Parsley: ¼ Bunch, Chopped
Read More: How To Set Parental Control On Mobile Phone
PREPARATION OF ALFREDO PASTA
In a pan over medium-high heat, melt butter, then add chopped garlic cloves and onion, fry till transparent.
Next, add boneless chicken and cook for 8 to 10 minutes or until the chicken is fully cooked.
Remove from heat and set the chicken aside.
In the same pan over medium heat, melt butter and add the mushrooms. Continue to cook till the mushrooms begin to soften.
Pour in the milk a little bit at a time, mixing well in between.
Then add cream and keep stirring, until fully fused with all the ingredients and sauce begins to thicken.
Add salt, black pepper, white pepper, thyme, oregano, and chicken powder, and mix well to combine.
Next, add the chicken and mix well.
Put in some black olives and parsley, and mix well.
Then add boiled penne pasta /elbow pasta or shell pasta and mix well until fully incorporated.