Iraq Rocket Attack Kills Foreigner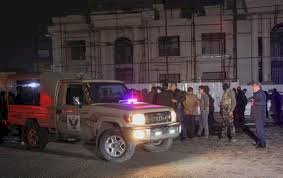 A stream of rockets targeting an airbase in Iraq's Kurdistan region killed a foreign civilian contractor. The five others were wounded including an American soldier, stated by the United States-led coalition.
The rocket attack on Monday was the first time in almost two months that Western military or diplomatic installations have been targeted in Iraq, after a series of similar happenings.
US Secretary of State Antony Blinken ordered an inquiry and made a promised to hold accountable to those who were responsible.
Former US President Donald Trump had warned that the killing of an American national in such a rocket attack would begin a mass bombing campaign in Iraq.
According to Iraqi and Western security sources, at least three rockets were fired in the direction of the city's airport, where foreign troops are based as part of an international alliance fighting the militant Islamic State group.
Coalition spokesman Colonel Wayne Marotto confirmed that the dead contractor did not hold Iraq nationality, but also could not provide instant details on his nationality.
As Iraq stated victory against IS in late 2017, the alliance has been reduced to under 3,500 troops in total. 2,500 of them were Americans.
Most were concentrated at the military complex at the Arbil airport, stated by a coalition source.
Read More:At Least 32 Lost Lives As Passenger Bus Falls Into Canal In India
The attack was claimed by a mysterious group, and they called themselves Awliyaa al-Dam or Guardians of Blood.