Indian Couple Allegedly Kill Daughters, Believed They Could Bring Them Back To Life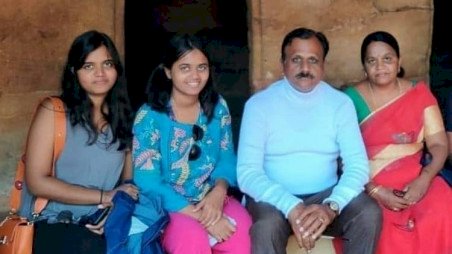 An Indian couple in Andhra allegedly killed their daughters as they thought were taken over by evil spirits. The couple believed that the daughters could be brought back to life, reported police.
The Indian police entered into the house of Padmaja(wife) and Valleru Purushottam Naidu (husband), to find their daughters, Alekhya (27) and Sai Divya (23) as they were lying on the floor with blood all around.
The couple had initially refused them to enter the house. But despite the couple's resistance, the police were able to move into their houses to find the dead bodies.
The two daughters had been beaten harder by dumbbells to put to death, said police.
According to the neighbors, the parents of the deceased were involved in a ritual just before the murders.
The police officer Ravi Manohara Chary told an Indian TV channel that the site of the crime indicated that some rituals were carried out before the incident.
At the time of the incident, four people were present in the house, the couple and their two daughters. But as the CCTV cameras are installed, so they can get the whole story easily, he elaborated.
According to the couple, the daughters are currently in some other ozone and can come back to life again, just give them one day.
Read More: Muslim Teenager Beaten & Arrested For Walking Hindu Girl Home In India
The couple has been arrested by the police now. Naidu is a professor of chemistry and also the vice-principal of the Government Girls' Degree College awhile and Padmaja is a postgraduate in mathematics.