In Wheelchair, Man Climbs Up Skyscraper In Hong Kong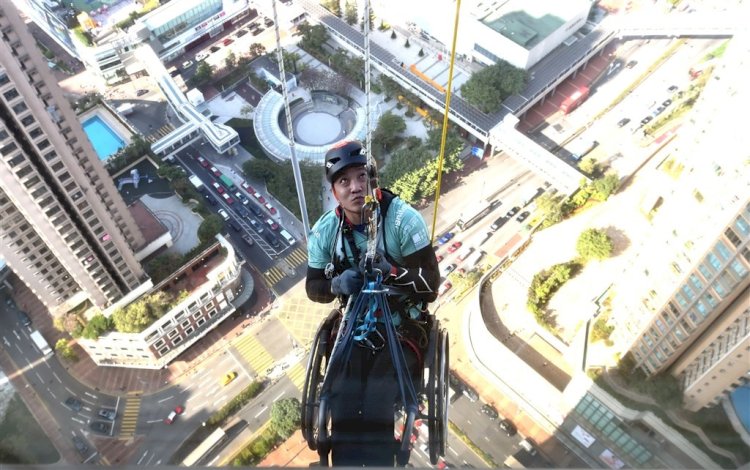 Lai Chi-wai is the first man in Hong Kong who climbed more than 250 meters high-rise building in a wheelchair as he fastened his wheelchair to a pulley system. It took him more than 10 hours to climb.
He was an athlete and is a climber later. He was a rock climber for 11 years. He has won 10 national championships and 4 Asian championships.
On December 9, 2011, the 37-year-old climber met with an accident and as a result, got paralyzed. For about 6 months he remained in depression as it was very difficult for him to accept the reality but later on he started thinking that whether a person is paralyzed or not, one should think about what he wants in his life by either thinking in an optimistic way or pessimistic. So, he chose to continue what he loves.
Many people encouraged him after the accident. According to Lai, his efforts will for sure, make other persons aware of the people like him who suffer from spinal cord injuries. He also requested to donate generously to the University of Hong Kong's "Get up and Walk" campaign.
After 10 hours, Lai had to quit his climb due to safety issues. He was 70 meters (230 feet) from the top at that time. But his remarkable attempt helped to raise more than HK$5.2 million (US$670,656) for a fund that supports disabled people.
Read More: Wildlife Faces Threat From Face Masks
He wanted to finish the challenge, so he has regret now but he tried his best. He wants to thank all the friends who support and encourage him, Lai added.