KFC Launched A Gaming Console with Chicken Heating Chamber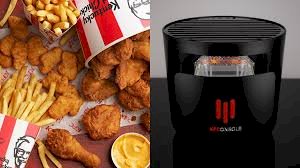 Everyone's favorite KFC has launched a gaming console equipped with a chicken heating chamber.
The food chain announced its new gaming console on social media, but the price is yet to be revealed.
According to the KFC, the gaming console can deal with and provide the exceptional gaming experience as any other gaming machine in the market while keeping your food warm during the intense gaming sessions.
The company sources explain the console to be made by the world's leading hardware design company and are safe.
It is designed in a way where the heat produce by the gaming console is used by the heating chamber to keep the food fresh and warm. The technology of the cooling system built especially for the console enables it to perform the gaming and heating job simultaneously.
"This machine is capable of running games at top-level specs, all on top of keeping your meal warm for you to enjoy during your gaming experience. What's not to like?" said the spokesperson of the popular food chain in an interview reported by BBC.

Read More: Dominic Julian Won Free Domino's Pizza For 60 Years
The food chain is ready to share its innovative technology with big names in the gaming machines industry such as Sony and Microsoft if they contact in the future.
KFC seems to be working on diversifying its business portfolio as earlier this year in February, they launched a fried chicken printed show and now a gaming console with a chicken heating chamber.
Let's wait and see how revolutionary this new gaming console can prove to be in the industry.