Khawaja Asif Arrested By NAB In Case Of Assets Beyond Means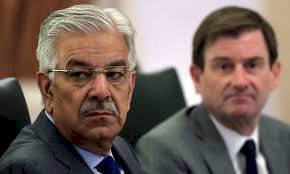 On Tuesday, the lawmaker of Pakistan Muslim League – Nawaz (PML-N) Khawaja Muhammad Asif, has been arrested by National Accountability Bureau (NAB) for allegedly having more wealth as compared to the sources of income.

An official of NAB has confirmed Khawaja Asif has been arrested earlier today in the case of assets beyond means case.
At that time Khawaja Asif was at the resident of another lawmaker of PML-N Ahsan Iqbal for a gathering that was scheduled quickly after the meeting of Pakistan People's Party earlier today.

The accountability officer claimed that Asif could not provide a satisfying answer to his ownership of assets worth Rs. 260 million.

Read More: Maulana Sherani Left Fazal-ur-Rehman, To Strengthen JUI-P

NAB officer said they will present Khawaja Asif tomorrow before the court to request a transit remand to take him to the Lahore branch of the bureau.

Now it is confirmed by the NAB that the arrest was allowed by Chairman of NAB Justice retired Javed Iqbal after he was unable to convince the investigation committee of NAB on how he made assets that do not match his means of earning.