KP Minister under Hot waters for violating COVID SOPs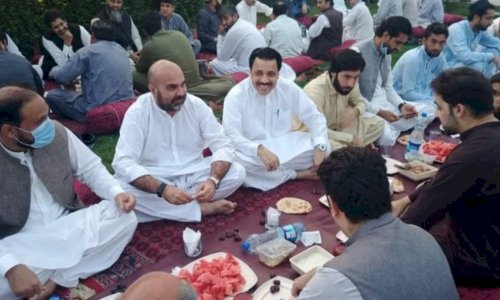 A case has been filed against Khyber Pakhtunkhwa health minister Taimur Jhagra for violating COVID 19 SOPs by the Sarband Police Station. The minister was reportedly found attending a private iftar party amid the strict restrictions. It is seen that no one at the party including the minister himself was wearing a mask. Also, the management of the local restaurant is also booked in the case for arranging the party.
Reportedly, the case is filed on the complaint of Assistant Commissioner Matani, Adil Ayub under Section 6-17 of the KPEECA. However, in the FIR Taimur Jhaagra's designation was not mentioned though.
Also Read: Highest of all-time single day COVID19 death toll recorded in Pakistan.
The police and district administration have been making claims for the last many days about arresting people in large numbers after lodging cases against them. It seems they acted after criticism on social media.
The FIR was registered at 11:55 midnight on Monday. It stated that the Iftar-dinner was arranged around 7 pm and the SOPs were violated by a large number of people. It added that the accused are yet to be arrested.
"The offence is bailable and the accused could get bail from the court of the deputy or assistant commissioner after imposition of fine, which is normally Rs300," an official requesting anonymity told The News.
Responding to the criticism, the minister said that it was a private iftar party and he was expecting very few people.