Misbah Loses His Selection Powers Babar To Have The Final Say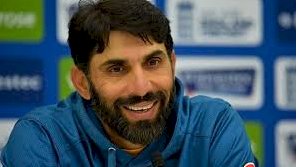 The Pakistan cricket board PCB has limited the power of the head coach Misbah ul Haq in team selection under its new rules. Now the captain will have the final say in selecting the playing eleven for a match.
Under the new policy Misbah's right to decide the final team was taken away and now the captain Babar Azam will decide the team after consulting with the other members of the committee.
As per the sources, "now the role of the head coach will be advisory".
Up until now, the head coach used to have the power of deciding playing eleven which has now been transferred to captain Babar Azam the development will be effective starting from the home series against South Africa. Where Azam will be selecting the team after consulting the head coach and other coaches. He can also consult Younis Khan if needed.
Misbah appeared before the cricket committee comprising Waseem Akram, Umar Gul, and Urooj Mumtaz. The committee suggested against the removal of Misbah as a head coach.
Read More: Misbah, Waqar To Appear Before PCB Cricket Committee On Jan 12
Pakistani squad for series against South Africa will be announced by the new chief selector Muhammad Waseem after the consultation with the captain and coaches on Friday.
South African team will arrive in Pakistan on January 16 while the biosecure bubble for the local players will start from January 19, 2021.