President Arif Alvi Conferred Hilal-e-Pakistan On Turkish Foreign Minister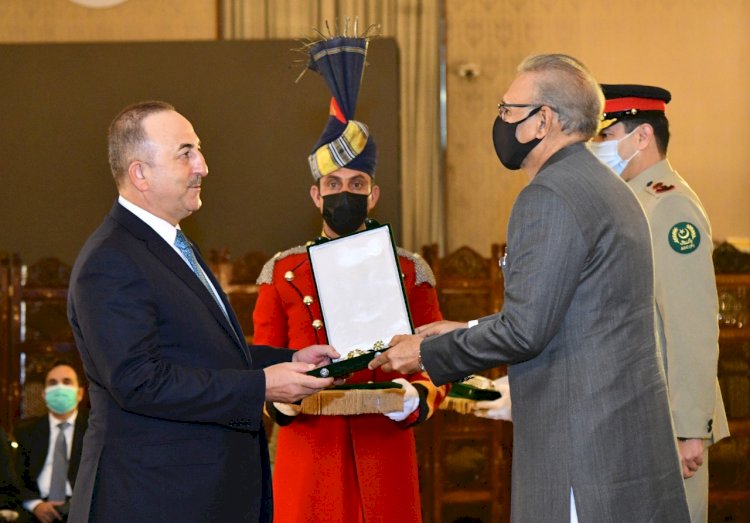 President Arif Alvi conferred the Hilal-e-Pakistan award to the Foreign Minister of Turkey Mevlut Cavusoglu today on Wednesday.
The awarding ceremony was held in honor of the Turkish Minister at Presidential Palace in Islamabad. It was attended by different ministers including Foreign Minister Shah Mahmood Qureshi.
President of Pakistan's shared the picture of the ceremony on Twitter and wrote, "President Dr. Arif Alvi @ArifAlvi conferring Hilal-e-Pakistan on Foreign Minister of Turkey, Mr. Mevlut Cavusoglu @MevlutCavusoglu, at a special investiture ceremony held, at Aiwan-e-Sadr."
After the ceremony Turkish Foreign Minister and his Delegation of Turkish offocials had a meeting with President Arif Alvi.
In the meeting President recognised Pakistan's excellent relations with Turkey and said that they should work on enhancing the cultural as well as economic affairs between the countries.
He informed the visiting FM about improvement of Pakistan's ranking in Ease of Doing Business and that it is a great opportunity for Turkish businessmen and investors to capitalize and avail.
He also shared his great satisfaction on the fact that Turkish investment in Pakistan has grown to more $1bn.
Read More: Azerbaijan Turkey Pakistan FMs To Hold A Trilateral Meeting Today
Foreign Minister of Turkey Mevlut Cavusoglu escorted by his delegation arrived in Pakistan yesterday on a 3 day visit that is part of normal bilateral relationships.