NBA Superstar Kyrie Irving's Builds Solar Water Center In Thar.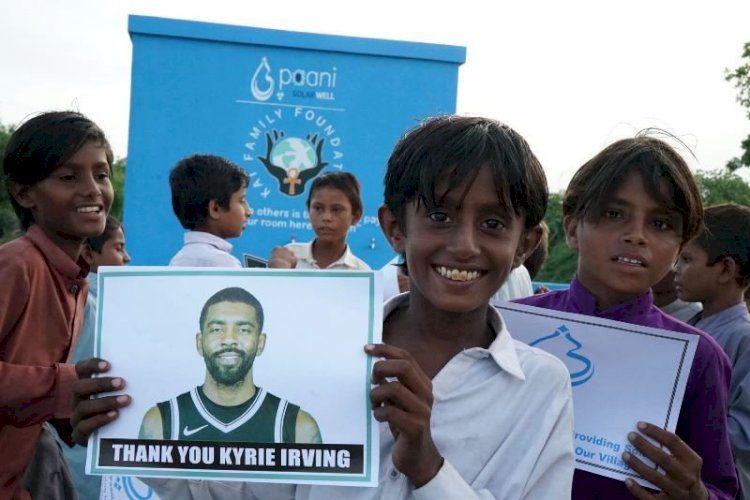 Irving's charity foundation has collaborated with a non-profit organization named Paani to build a solar water center that is reportedly providing "clean water and facilitating farming" in a remote area of Sindh's Thar region.
Paani nonprofit organization (NPO), founded in 2017, works with community partners and institutions in the United States and Pakistan to drive sustainable, evidence-based interventions that primarily focus on alleviating clean water inaccessibility, advocating for gender equity, and addressing a variety of pressing health disparities.
Their mission is to provide temporary relief where we can and work toward the permanent solution of complex problems.
Read More: Hassan Ali Becomes the Third Fastest to Reach 50 Wickets.
Tharparkar is a district in Sindh and is one of the poorest areas in the world. And the people of Thar have suffered a drought over the past 17 years.
"NBA superstar and humanitarian Kyrie Irving built a Paani solar water center in Sindh with his K.A.I. Family Foundation," one of the tweets said, adding that the center had made clean water accessible for over 1,000 village folks in the area.
KAI foundation has not only funded the water project, but they have also helped set up solar-powered electricity for the area. According to details, electricity will be provided to local mosques, schools, and other facilities.
The 29-year old basketball player is regarded as one of the best players in the NBA currently. Irving currently plays for Brooklyn Nets in the NBA and is a seven-time NBA all-star.