Khaqan Abbasi Has A Special Message For Maryam & Shahbaz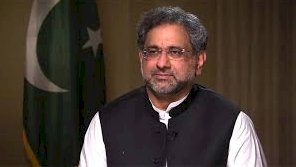 The former prime minister and PML-N Shahid Khaqan Abbasi have returned from London to Islamabad with Nawaz Sharif's message for Maryam and Shahbaz, informed a close source.
According to the reports Abbasi reached Islamabad from London via Dubai on an international flight.
Abbasi was returning from the United States after visiting his sister and brother-in-law who were hospitalized due to coronavirus complications. On his return, he stayed in London for 5 days and met PML-N leader Nawaz Sharif.
According to sources Abbasi has a very important and secret message for both Maryam Nawaz and Shahbaz Sharif.
Read More: President Arif Alvi Conferred Hilal-e-Pakistan On Turkish Foreign Minister
Khaqan Abbasi went to the united states after the approval of a summary by the ministry of interior under which the cabinet approved the removal of his name from ECL in December.
The ex-prime minister's name was put in ECL last year at the request of the national accountability bureau (NAB).