Rahat Fateh Ali Khan, the first Pakistani Musician awarded with the Lifetime Achievement Award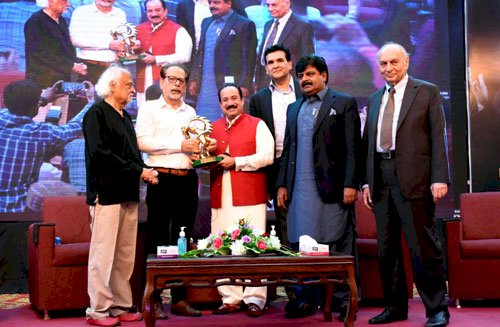 Who is not aware of this name? Rahat Fateh Ali Khan is a name known to every person. He has a huge fan following not in Pakistan but also around the world.
Recently, he has been awarded a Life Time Achievement award by the Arts Council of Pakistan Karachi. Also, the council has given him an honorary membership in a small-scale ceremony held at Jaun Alia Garden in Karachi on Tuesday.
Provincial Culture Minister Syed Sardar Shah, council president Ahmed Shah, Secretary Arts Council Ejaz Ahmed Farooqi, International producer Salman Ahmed, and living legend Anwar Maqsood were also present at the occasion.
On account of receiving the honor, Khan said, "I am proud to be accepting this award from a world-renowned institute for Arts and Culture. I cannot put my feelings into words." He then added, "Anwar Maqsood is my mentor. He is the legend of words and stories. It is nothing less than an honor for me to speak in front of him".
"We are proud to present Lifetime Achievement Award and the Lifetime Membership of Arts Council to Rahat Fateh Ali Khan in recognition of his massive achievements," said Mohammad Ahmed Shah president of Arts Council
Related Read: Riz Ahmed becomes the first Muslim nominee for Oscar Award
Rahat Fateh Ali Khan is a musician, and primarily, a singer of Qawwali, a devotional music of the Sufis. He is the nephew of Pakistan's legendary singer Ustad Nusrat Fateh Ali Khan. Ustad Nusrat Fateh Ali Khan is a kind of artist who is born once in a lifetime.

Following Ustad's footprints, Rahat started his career in 1997, by singing the song "Kisi Roz Millo hamein Sham Dhaley". He composed and sung few songs after the death of his uncle, Nusrat Fateh Ali Khan, but those songs were not released at that time. He has toured extensively and performed in Pakistan, India, and all around the world. In 2010 he appeared as a judge in the singing reality show "Chotte Ustad".
His song "Zaroori Tha" was a super hit and crossed 200million views within 3 years of release.
Rahat Fateh Khan is the first Pakistani musician to have received this honor, which was previously awarded to Maqsood, Zia Mohyuddin, Iftikhar Arif, Amar Jaleel, and Asad Muhammad Khan.
resident Arts Council also requested the Government of Pakistan to honor Khan with a Nishan-e-Imtiaz for his contribution to music.