Babar Azam makes spectacular 122 runs against South Africa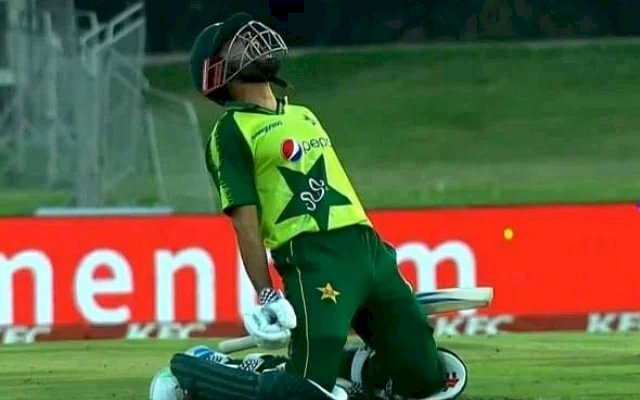 Babar Azam makes spectacular 122 runs against South Africa in a T20I on Wednesday, results in a winning chase against 203 runs by the Proteas. Pakistan is now 2-1 in the four-match series being played in South Africa.
Pakistani captain who just crossed Virat Kohli and became the top-ranked ODI batsmen a few days ago is in the news again. He played a glorious inning of 122 runs in Centurion and broken 7 records at the same time.
The records that have overwhelmed the whole country with pride are as follows:
This is the highest score by a captain in a T20I chase. Before this Nepalese Paras Khada was the only captain to make a century in a T20I chase.
Secondly, Babar Azam reached the three-figure mark as quick as 49 balls. The previous record was that of Ahmed Shahzad, who crossed 3 figures in 58 balls.
Babar Azam has not become the Asian captain with the highest individual score in a T20I. India's Rohit Sharma was stripped of his record of 118 runs against Sri Lanka
Babar Azam and Rizwan sealed an opening inning of 197 runs. This partnership is the highest ever in a T20I match
The young captain hit as many as 15 fours in a single T20I inning and is only second to Aaron Finch's record of 16 fours.
Babar's 122 runs are the second-highest individual score for any player from a chasing team in the T20I format. Topping the list is Evin Lewis who made 125 runs off 62 balls against India.
This is also the highest individual score in a T20I chase against South Africa.
Read also: Babar Azam became World's top ODI Batsman
Babar Azam is on the roll. Pakistani captain is a stylish batsman who keeps attracting news and praises with his performance and sportsmanship. His performance has only improved over the years and the young player seems to be eager to go places.