Bilawal, Zardari Invited To Joe Biden's Inauguration Ceremony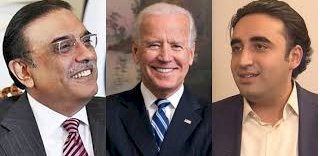 Chairperson of Pakistan people's Party Bilawal Bhutto Zardari and co-chairperson Asif Ali Zardari has been invited to the inauguration ceremony of the newly elected president Joe Biden. The ceremony is planned for January 20, 2021.
Party sources of PPP informed the local media that the father and the son have been invited to attend the oath-taking ceremony of the new US president Joe Biden.
US congress certified Joe Biden's election victory on Jan 6, 2021. The certification came right after the attack on the capitol by thousands of trump supporters, the action was considered an assault on US democracy.
Despite the aggression from trump supporters, the white house issued the statement where trump pledged the peaceful transition of power where Joe Biden with sworn to his duties on Jan 20, 2021.
Read More: Karachi Traffic Police Will Now Fine You For Slow Driving
After the long debate both the Senate and the House of Representatives rejected the two objections on the electoral results and certify the Biden victory where Joe Biden secured 306 electoral votes and Trump only secured 232 electoral votes.