Karachi Traffic Police Will Now Fine You For Slow Driving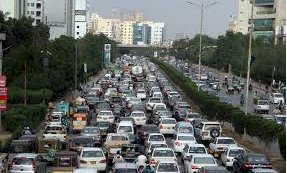 On Monday, in order to ensure the smooth flow of the traffic in the city, the Karachi traffic police decided to strictly enforce the lane rules in the provincial capital.
According to the deputy inspector general Iqbal Dara the motorcyclists and drivers who drive slow in the fast lane increase the pressure on the flow and cause disturbances. Now such drivers and motorcyclists will be fined.
He also said that the rickshaws and motorcycles are not allowed in the fast lane. He urged the public to drive sensibly and avoid using the cellphone while driving to ensure their own safety and their fellows.
Read More: Shoaib Malik's Sports Car crashed into a Truck
Dara should optimism saying that the lane rules will show help in the reduction of road accidents in the city and ensure the smooth flow in Pakistan's biggest city.
Earlier on December 29, 2020, Karachi traffic police allowed the deployment of breathalyzers owing to the increased traffic accidents due to drunk driving. The breathalyzers will initially be deployed in the areas of Karachi and then to other parts of the province.