Chaudhary Mukhtar Ahmad Passed Away In Lahore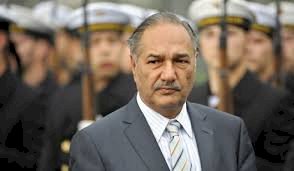 Today, Chaudhry Ahmad Mukhtar passed away in Lahore at his residence. He was 74 years old and a senior PPP leader and former defense minister.

At the beginning of this month, Mukhtar had admitted to the Shalimar Hospital, suffering from Alzheimer's disease. A few months ago, Mukhtar had undergone surgery in the United States.

Today, the funeral prayers of Mukhtar has offered after Zuhr at the T-Block mosque in DHA Lahore.

Bilawal Bhutto also expressed his grief on Mukhtar's death, saying he was a "faithful and experienced leader and an asset of Pakistan's People Party". "Very grieved" at Mukhtar's death, adding that the PPP would "forever feel his absence", said Bilawal Bhutto.

Fawad Chaudhary, the Federal Minister for Science and Technology also expressed grief on Mukhtar's passing away. "Late Khaled Kharral invited us on coffee and we participated in the debates. Khaled and Mukhtar were center forwards of PPP and important members of Pakistan politics. Both are no more ... will be missed," he stated.

Read More: Six Pak Army Officers Promoted To Lt General Rank: ISPR
Senator Sherry Rehman said, "Very sorry and sad to lose Chaudhry Ahmed Mukhtar".
"He was a fine man, solid friend, and party loyalist held many positions in the party, including PPP secretary-general. Praying for his soul and family in their pain," Sherry Rehman said in a tweet.
Asif Ali Zardari also offered condolences on the death of the leader and paid tribute to him for his duties.