Cloudburst Causes Flood Situation In Islamabad.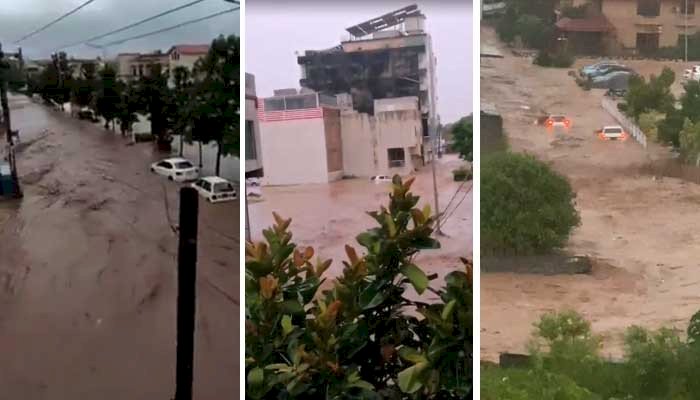 A cloudburst in the federal capital has caused flooding, confirmed Islamabad Deputy Commissioner Muhammed Hamza Shafqat Wednesday morning.
On his official Twitter handle, weather updates are shared by DC Islamabad. The deputy commissioner said, "Cloudburst in Islamabad has caused flooding in various areas. Teams are clearing nullahs/roads. Hopefully we will be able to clear everything in an hour".
Later, the DC announced that the Islamabad roads were clear for traffic.
The twin cities received the highest rains during the current monsoon season. The meteorological department said that some areas in Islamabad received up to 330mm of rain in the last few hours.
Read More: Karachi Police Provides Free Vehicle Repair Services to Citizens During Monsoon Season.
Videos from Islamabad's sectors E-11 and D-12 show cars floating in gushing waters after heavy rains that lashed the federal capital and Rawalpindi for hours.
Pakistan Army troops were deployed in Rawalpindi after the local government sought the military's help following incessant rains that triggered a high flood in Nullah Lai.
Earlier, a spokesperson of the National Disaster and Management Authority said that after heavy rains in Rawalpindi and the danger of possible flooding in Nullah Lai, local administration and emergency services were alerted to deal with any emergencies.