Faisalabadi IT Student Develops Smart Shoe For Blind People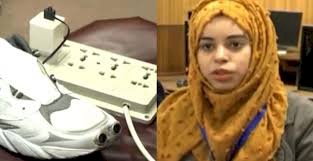 An IT student Shanza Munir from Government College University, Faisalabad developed a smart shoe for blind persons.
According to Munir, there were many good projects to choose from, but her idea was a bit different as she preferred to target the blind community.
The shoe has special sensors to detect any hurdle and also a power button and rechargeable batteries.
Read More: Pakistani Doctor Invents Smartphone-Based COVID-19 Test
\When the power button is turned on, a welcome message will be given to the person. If there is any obstacle within a 200 centimeters radius then, an alert voice message will be raised as "Please stop, the hurdle is too close". There is also a vibration motor and the shoe starts vibrating to warn that a hurdle is there.
Read More: Pakistani Twins Become Youngest Microsoft Power Platform Certified
The total cost for this project was about 10,000-12,000. If we want it on a large scale, then production cost will also be minimized, said Munir.