Government To Reopen Educational Institutions From January 18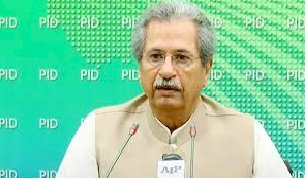 Government to reopen schools, colleges, and universities in phases starting from January 18, 2021, announced the federal minister for education Shafqat Mehmood.
He announced that the educational institutions in the country will reopen in different phases, schools and colleges for classes 9,10,11,12 will reopen on January 18, 2021, in the first phase.
While, in the second phase, the schools for the remaining classes will open on January 25, 2021.
In the third and final phase, university students will return to the campuses on February 1, 2021.
The education minister also announced permission for staff, teachers, and administrative faculty to work from their workplaces. Whereas, the online and home-based lecture can be resumed from January 11, 2021.
During the press conference, the special assistant to the prime minister (SAPM) for health also reported that the decision has been allowed because of the decline in the confirmed cases of the virus in the country.
Read More: Schools Across Pakistan Should Be Reopened & Give Financial Relief Package
The education minister Shafqat Mehmood said that the decision has been taken after the discussion with all provinces.
The education ministry has also made it clear that this year no student will be promoted without exams. Shafqat in his conference also informed that the board exams have also been postponed till May and June as students didn't have ample time to prepare for the exams.