Kangana Vs Diljit: Twitter War Sparked By Rihanna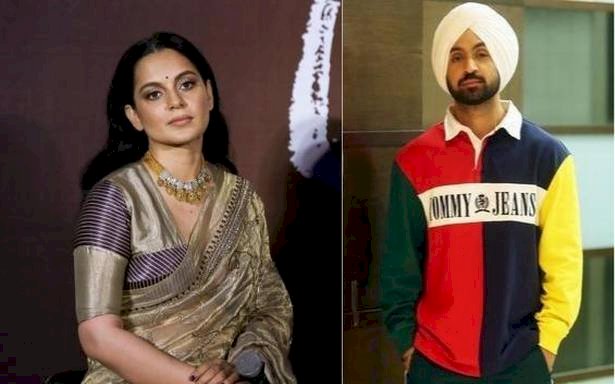 Rihanna's tweet in solidarity with the Indian Farmer Protest has once again triggered the amusing fight between Singer Diljit Dosanjh and Actor Kangana Ranaut.
The long-standing battle between the two has been the highlight of Twitter for months. Mostly because of Diljit's witty responses to Kangana's radical abuses. We live for Dosanjh rendering Kangana speechless.
Read More: Rihanna Tweets Showing Solidarity To Protesting Indian Farmers
However, this time Kangana Ranaut did not shut up and went on hurling mindless accusations at the Punjabi singer. The fight started after the former (Dosanjh) tweeted about the release of his new single titled 'Riri' to honor Rihanna for her support of Farmer's struggle in India.
Kangana quote retweeted this and said, "He has to make his few cents (2 rupees) too. How long has this been going on? It takes a minimum of one month to prep and announces a video and liberals want us to believe this is all organic haha."
In reply, the farmer laughed and at her '2 rupee' words and said, "Don't refer your job to me. We can make a song in half an hour. Don't feel like making one on you or it will take me only two minutes. You have to get into every issue, now don't bore me and go do your job."
The later once again quoted and said, "My only job is patriotism and that is what I do all day. I will keep doing it and won't let you do your job, Khalistani."
Diljit laughed at her and said, "What is this? You don't make any sense. It is God that stops people, you are no one to stop someone. And your patriotism needs an external stimulus to rise and no one was even talking about you."
Kangana then blabbered some senseless stuff like, "Your Canada gang won't be able to do anything, Khalistan will remain the figment of your imagination and we would not let you divide our country. Do as many strikes and create as much restlessness as you want."
The accusations of traitor riled up the former and he said, "What is wrong with you? This isn't your country alone. India is everybody's equally, get rid of your delusions. India is ours too, and go, don't bore me."
Read More: Online Exams: Student's Protest Paid Off
This continued for a series of tweets until Kangana gave up. It was amusing to see Diljit Dosanjh giving it back to the radical Hindu nationalist in a funny and cute manner, which had us all rolling on the floor.
The farmer protest has put India's left and right against each other and showed the extremist ideology of many Indian celebrities.