Nepal Bans Three Indian Climbers For Faking Everest Summit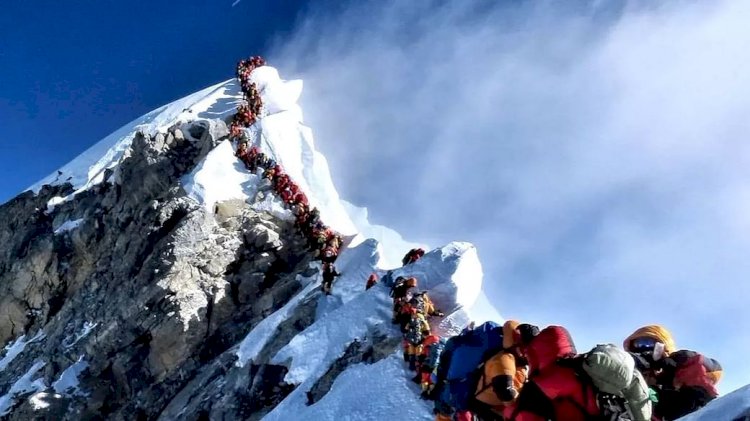 Nepal canceled the Everest summit certificates of two Indian climbers on Wednesday, for faking their 2016 ascent. Both are banned along with their team leader from mountaineering in the country for six years, officials said.
They reached the top of the world's highest mountain in the 2016 spring season, and Nepal's tourism department certified their statement at that time. It was narrated by Narender Singh Yadav and Seema Rani Goswami.
But Indian mountaineers flared up after Yadav was listed for the prestigious Tenzing Norgay Adventure Award last year, prompting an investigation.
According to Tourism Ministry spokesman Tara Nath Adhikari, their researches and inquiries with other climbers disclosed that the two never reached the summit.
They couldn't show any proof of their ascent to the peak and even failed to submit reliable photos of them at the summit, Adhikari said.
The two hikers along with their team leader Naba Kumar Phukon have been banned from climbing Nepal's mountains for six years, commencing retroactively from May 2016.
Seven Summit Treks, the tour organizer, has been charged 50,000 rupees (the US $450) and their supporting Sherpa has been charged 10,000 rupees (the US $85).
Another Indian couple was banned for 10 years, in 2016, after they faked photographs, claiming to show them at the top of Everest. Both were police constables and they superimposed themselves and their banners onto photos taken by another Indian climber Satyarup Siddhanta at the summit.
Nepal has eight of the world's 14 highest peaks and foreign climbers are a major source of income to it.
Due to the COVID-19 pandemic, the tourism industry was closed temporarily, but climbers are now creeping back into the country.
Read More: Fans Can Now Pre-Book Tickets For PSL 6 Matches
Till now, Yadav, Goswami, and Phukon, didn't comment publicly following Wednesday's announcement.