Iraq Prime Minister pursues closer trade bonds on Saudi Arabia visit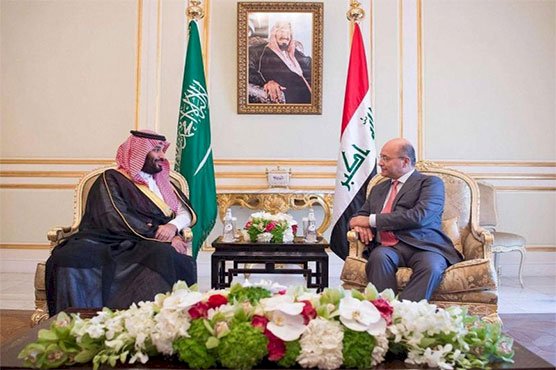 Saudi Arabia's prince welcomed Iraq's Prime Minister (PM) Mustafa al-Kadhemi in Riyadh on Wednesday, as the PM arrived on an anticipated but long-awaited visit that according to officials, intends to forge closer trade ties.
The tour schedules after Iraq and Saudi Arabia reopened their land border, the Arar crossing, in November for the first time in 30 years, in a new attempt to renew once-frosty bonds.
As stated by an Iraqi official, "This tour aims to discuss as well as increase ongoing cooperation and the work of the Iraqi-Saudi committee which directed the re-opening of Arar".
According to the official, Kadhemis visit seeks to further boost economic cooperation and investment and discover ways to reinforce regional stability.
The kingdom's Crown Prince Mohammed bin Salman received Kadhemi at Riyadh airport.
The official Saudi Press Agency stated that the trip was scheduled at the invitation of King Salman.
"Today, we commence a visit to the kingdom of Saudi Arabia to reinforce our two-sided ties and enhance regional cooperation," Kadhemi Twitted before his arrival.
Kadhemi planned to travel to Saudi Arabia on his first foreign trip as prime minister last July, but the trip was postponed at the last minute as King Salman was hospitalized for removal of his gall bladder.
His visit to Tehran including the meeting with Iran's supreme leader Ayatollah Ali Khamenei, Riyadh's opponent, went ahead.
As Kadhemi wants to maintain close personal ties with the Saudi crown prince, he follows a diplomatic tightrope as Baghdad often finds itself indulged in the tug of war between Tehran and Riyadh as well as its supporter Washington.
Iraq is the second-largest producer in the OPEC oil cartel, ranked only by Saudi Arabia.
Kadhemi, whose government wanted to progress foreign investment including Saudi support for energy and agriculture, is forcing for deeper economic bonds.
Read more PM Imran Khan seeks 'climate finance' for Pakistan
The Arar border crossing recommenced to goods and people in November 2020 for the first time since Riyadh discontinued its diplomatic connection with Baghdad in 1990.