Pakistan Loses Four Spots In Corruption Perceptions Ranking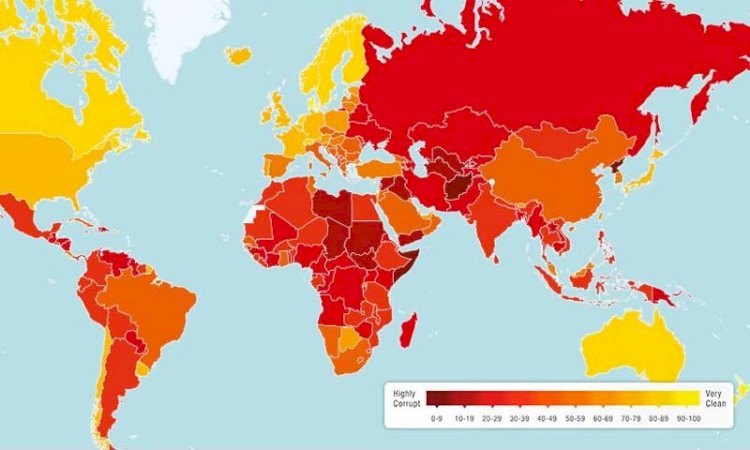 Corruption in Pakistan is considered to have raised as compared to the last year as now it is ranked at 124th position out of 180 countries and was ranked at 120th position in 2019 on the global corruption perception list. It was issued by Transparency International (TI), an international non-governmental organization based in Berlin.
TI releases the Corruption Perceptions Index (CPI) every year with 180 countries and territories, based on the perceived level of public sector corruption.
Pakistan is now four positions down in 2020 as compared to 2019 and lost seven positions if compared to 2018. It was ranked 124th in 2020, 120th in 2019, and 117th position in 2018.
If the corruption score of neighboring countries is observed, then it would be clear that the score of Iran, India, and Nepal are also one position down and Malaysia, two-position down. However, Afghanistan's score is improved by 3 and Turkey by 1.
According to CPI 2020, Pakistan's score has fallen to 31/100 from 32/100 in 2019.
According to NAB, Rs363 billion has been recovered in the last two years and
Rs300 billion in over two years by Public Accounts Committee (PAC),
As per a statement by TI Pakistan Chairperson Sohail Muzaffar, Pakistan has scored less than last year on two counts, the rule of law index and varieties of democracy.
When asked about these two terms, he said, is comprised of four things the corruption of government officials through legislatures (parliament), executives (bureaucracy), judiciary, police, and military and government must pay attention to these areas for better performance.
Read More: Pakistan Faces 900,000 Hacking Attacks Daily, IT Minister
Special Assistant to Prime Minister of Pakistan on Political Communication Dr. Shahbaz Gill's reaction was immediate and defended after Pakistan's rating was disclosed. According to him, outdated data has been used to calculate Pakistan's ranking.