Punjab Budget People-friendly: Dr. Yasmin Rashid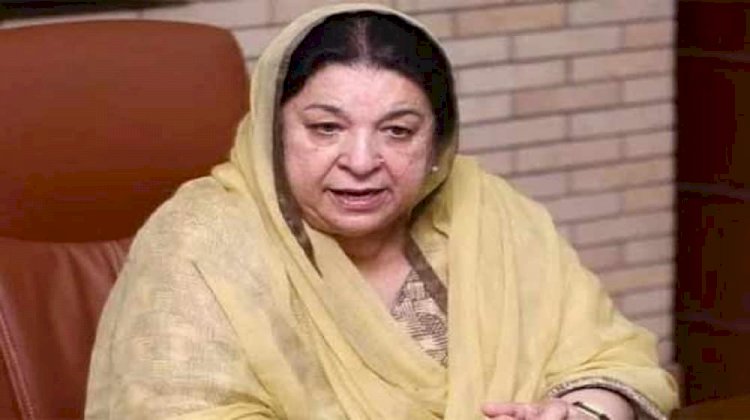 Punjab Health Minister Dr Yasmin Rashid stated on Monday that Punjab has given a public-friendly and historical budget as per the needs of the people.
According to the minister, the budget had been prepared as per the people's needs. Prime Minister Imran Khan as well as Chief Minister Usman Buzdar made the people much happy with this great budget.
She elaborated that the previous governments never think about common man relief. She said, "The PTI government has prioritize providing relief to the people over its expenses and believes in spending public money on merely public welfare.
Rs370 billion allocations for health is a special gift from PM and Rs 106 billion relief package has been provided by the Punjab government for COVID-19.
As compared to last year, the development budget has been raised 182% by adding Rs96 billion. A total of Rs80 billion has been reserved for Universal Health Insurance Programme. The entire population of Punjab will be facilitated with free-of-cost quality healthcare services. According to this programme, over 110 million population in Punjab will be given quality insurance.
Dr Yasmin said, "The development budget of Rs78 billion has been kept for the departments including Specialised Healthcare and Medical Education Department. Whereas, 1,000-bed General Hospital, Children Hospital Paeds burn centre, CT Scan machine installation at Nishter Hospital and 200-bed Mother and Child Hospital Multan, is part of main projects for the SH&ME Department. In cities including Sialkot, Attock, Rajanpur, Layyah, and Bahawalnagar, up-to-date mother and child hospitals will be established with Rs24 billion."
The minister further stated that a Rs19 billion development budget had been proposed for the Primary and Secondary Healthcare Department. According to her, Rs6 billion would be given for a special programme for the upgradation and renovation of 119 THQ hospitals. With a budget of Rs16.6 billion, DHQs will be set up in Chakwal, Chiniot, and Hafizabad. Also, Rs11 billion has been reserved for preventive programmes such as HIV/AIDs, Hepatitis, and other similar diseases.
Read more: Rs8,400b 'Growth-oriented' Budget 2021-22 To Be Presented By PTI Govt
As per Dr Yasmin Rashid, overall, 36 BHUs (Basic Health Units) were being upgraded to RHCs (Rural Health Centres). An amount of Rs10 billion has been kept for corona vaccination of the whole population of Punjab. Rs35.25 billion has been proposed for the provision of medicines in hospitals. In 14 cities of Punjab, trauma centres are being established at Rs3.5 billion.