Reason Behind The Fire Incident At Hafez Center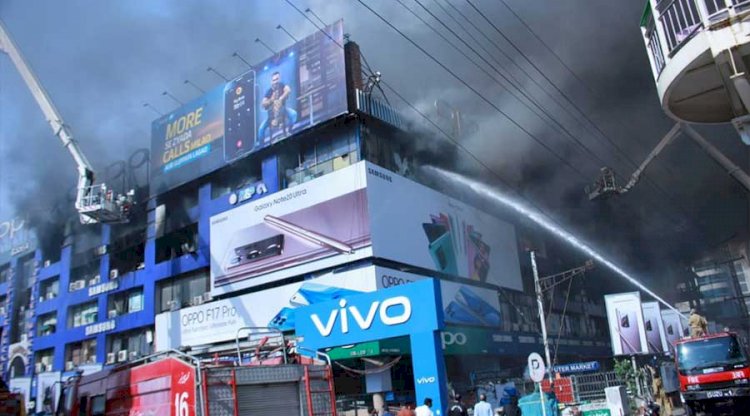 Yesterday Hafez Center Lahore was on fire. A reason behind the massive fire was assumed a short circuit as a result of a massive fire to break out in the large plaza hence several floors were surrounded in the flames on Sunday morning.
According to witnesses, the fire incident happened at around 5 o'clock in the morning. The fire brigade was called into around 6 am after a fire started on the second floor of the plaza, where mobile and laptop stores were located. It soon spread up to the fourth floor.

Read More: Africa's Tallest Mountain Is On Fire
`
When the rescue teams arrived at the incident spot, at first, they contacted LESCO to cut off the main power supply but within that delay, several shops were affected rapidly due to the massive fire.
The fire kept on spreading till the evening; it was difficult to breathe because of smoke in the area and making breathing difficult.
According to reports, 12 fire brigades and 60 rescue officials took part in carrying out relief activities in the Hafeez Center. On the other hand, eight fire brigades were not capable to perform the rescue operation due to a shortage of water.

Read More: Why Captain Safdar Arrested In Karachi?
Almost 35 shops were caught in the fire, in a statement, it was mentioned the shop owners trying to save the mobiles and laptops and other expensive electronics on their own. Some owners were weeping as their shops were turned to ash in front of them.

Usman Buzdar the Chief Minister of Punjab took notice of the incident and directed the authorities to use all possible resources to extinguish the fire. He further ordered to find out the main cause of the fire at Hafeez Center and the report will be made public. The loss of shop owners and tenants is heartbreaking. He instructed the authorities to estimate their damages. Moreover, he said, we will evaluate the losses of the tenants and take steps to fix the situation as soon as possible.