68 Died In Germany, Belgium Floods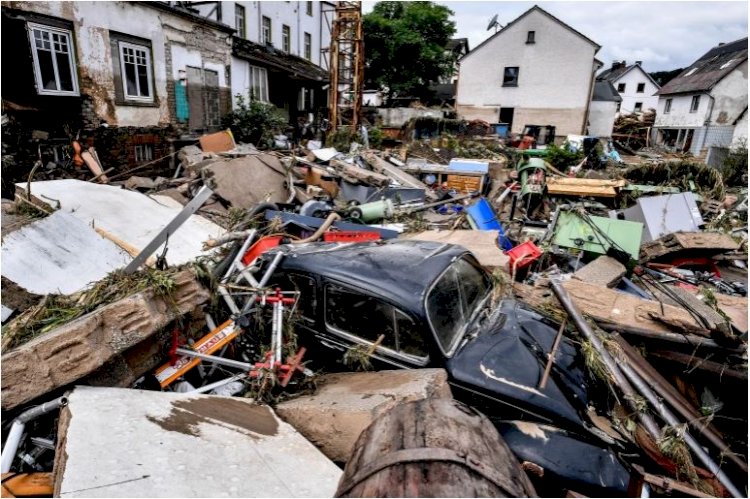 Heavy rains and floods hit western Europe and killed at least 59 people in Germany and nine in Belgium, and several are missing as rising waters resulted in collapsing of many houses on Thursday.
Germany is facing one of the worst weather calamities since World War II, where desperate residents seek refuge on their homes' roofs homes as rescue helicopters circled above.
Heavy rains also flooded neighboring Belgium, Luxembourg, and the Netherlands.
German Chancellor Angela Merkel while on a visit to Washington stated that her "heart goes out" to the victims of the flooding.
"I am afraid that the full extent of the disaster will only be seen in the coming days," she said, adding that the government is putting its "utmost efforts to help people in their distress".
US President Joe Biden, while speaking in a joint news conference with Merkel, offered his "sincere condolences as well as condolences of the American people for the overwhelming loss of life and destruction".
North Rhine-Westphalia (NRW) chief Armin Laschet, who is trying to succeed Merkel in elections in coming September, canceled a party meeting in Bavaria to review the destruction in his state, which is Germany's most populous.
"We will stand side by side with the town and people who've been affected," Laschet told reporters in the town of Hagen in rubber boots.
Read more: Lightning Strikes Kills Over 50 In India
He demanded to increase global efforts to fight climate change, highlighting the link between extreme weather and global warming. As a warmer atmosphere holds more water, climate change rises the intensity and risks of flooding from extreme rainfall.