Emirates Fly Attendant Do A Crazy Stunt By Standing On The Top Of The Burj Khalifa.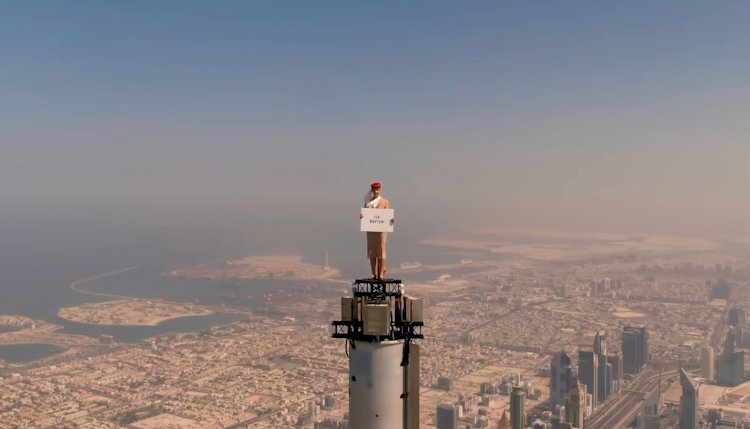 Dubai International Airport-based Emirates Airline has taken its latest ad campaign to the next level by having a person dressed as an emirates flight attendant standing on the top of Burj Khalifa. Burj Khalifa is 828 meters high and is the tallest building globally.
For this crazy marketing stunt, Emirates considered American skydiver and stuntwoman Nicole Smith-Ludvik to perform this stunt. Without concerning that danger involved in making a 32-second video.
Emirates decided to perform this stunt, by making a video to celebrate the United Arab Emirates being moved from the United kingdom red list to amber list. This means that UK citizens can enjoy their vacation in Dubai without having to quarantine for 10 days when they return home.
Read More: Dubai Scoopi Cafe Introduces World's Most Expensive Ice Cream.
Nicole Smith-Ludvik shared a 32-second video clip on her Instagram with having quotation of Helen Keller "Life is either a daring adventure or nothing at all."
She sifts through a series of placards that reads, "Moving the UAE to the UK Amber list has made us feel on top of the world. Fly Emirates. Fly Better."
A marketing campaign like this creates healthy competition for other businesses to come up with different and unique ideas to attract more customers. It's pretty clear that Emirates is delighted with the decision and looking forward to welcoming back British passengers.