Meet Egyptian Siblings with Gigantism who have set 5 Guinness World Record.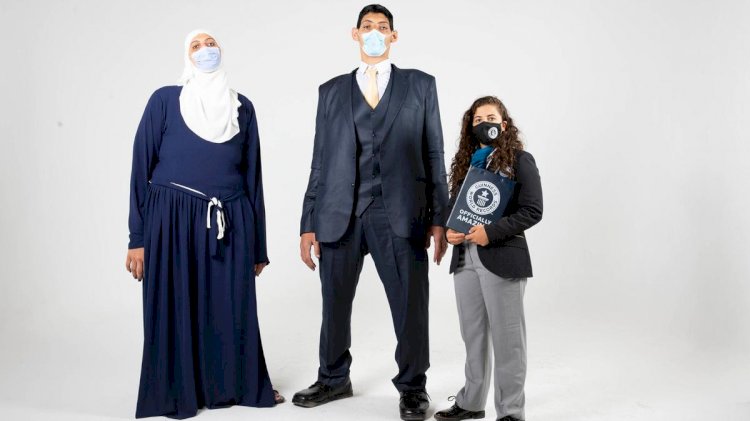 In a world full of 8 Billion, it needs the courage to stand up from the crowd. Sometimes it takes persistence and creativity to get your hand on the Guinness World record certificate that acknowledges your achievement.
Meet two siblings Mohamed and Huda Shehata, they belong to Egypt. Some people born with talents, features and make their name to earn the title of Guinness World Record. But In the case of Mohammed and Huda, they both are dealing with gigantism. Gigantism is a rare condition that causes abnormal growth in children.
When both of them notice that they just didn't stop growing. This rare condition leads them to earn five Guinness World Records. In their Village, they have nicknamed the "Giants of Al-Sharqeya" due to their incredibly large statue.
According to the official statement of Guinness World Record, the sibling have a combined height of 414.4 cm, with hands larger than a dinner plate. Mohamed at age of 34, achieved two records, the first being the title for the "widest hand span on a living human (male) with it being 31.3 cm on his left hand, while his second title is for the "widest arm span on a living person (male)" measuring at an impressive 250.3 cm in length.
Also Read: Meet Rawan Dewik with Down Syndrome Memorizes The Holy Quran
On the other side, her sister Huda has 3 records of her own. She holds the title of "widest arm span on a living person (female)" at 236.3 cm, but she also has the titles "largest hands on a living person (female)" measuring at 24.3 cm on her left hand, and finally "largest feet on a living person (female)" measuring at 33.1 on her right foot.
According to a statement given by Huda, she said " I hope the achievement of Guinness Worlds Record title would change my life forever. I have always dreamed of dressing like other women, but I accept myself now and live with satisfaction."