Over Half Of Syria Children Deprived Of Education: UN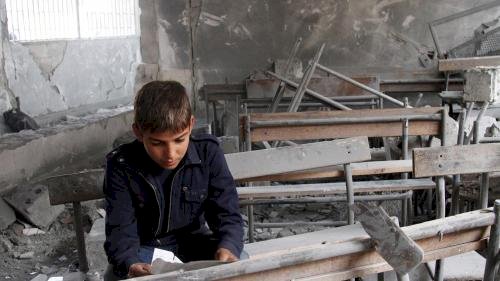 According to the UN's children s agency UNICEF, more than half of the children in devastated Syria are overlooked in the education sector due to broken down schools seized schools by fighters.
There is an obvious rise in the statistics from previous ones when UNICEF reported one-third of Syrian children were not admitted to schools.
In a statement by UNICEF, more than half the population of children of Syria is facing a lack of education after around ten years of war.
In a joint statement by Ted Chaiban, UNICEF's chief for the Middle East and North Africa and Syria crisis boss Muhannad Hadi, the Covid-19 pandemic has worsened the situation of the education system in Syria. The education system is underfunded, shattered, and unable to give fair education to millions of Syrian children.
Syria's civil war was started in 2011 when the violent suppression of the protests resulted in a dispute that involved jihadist groups and foreign powers. More than 387,000 people have been murdered and more than half of the 20 million population were forced to leave their homes.
One among three schools is no longer available for education as these have been utilized for other purposes like military or damage. The remaining schools are either jammed pack or lack the basic facilities like electricity, water, sanitation, heating, and ventilation.
Read More: You can now get a PhD without Masters, MPhil: HEC
UNICEF further elaborated that after 52 attacks against facilities related to education last year, there is almost 700 number of UN-confirmed violation cases against the education sector.