Pakistani Pavilion Becomes Hit In Dubai Expo 2020.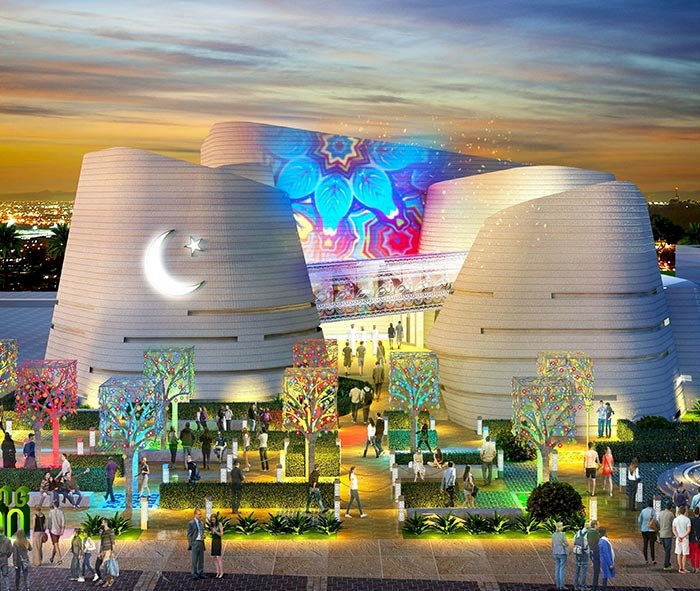 Expo 2020 Dubai is the first World Expo ever hosted in the Middle East, Africa, and South Asia region. It starts from 1st Oct 2021. And Expo 2020 will run from October 2021 to March 2022.
Pakistani Pavilion become an instant hit under the theme of "Pakistan's Hidden Treasures." The pavilion is divided into 8 key spaces where visitors can experience the country's best-kept hidden treasures.
The eight key spaces include different Pieces of Arts and Crafts, Food Courts, etc. It features a custom-made Pakistani cuisine restaurant called 'The Dhaaba' that will feature the country's authentic, centuries-old cuisine for global audiences to savor.
A narrow passage takes visitors on a mesmerizing journey of light and shadow through the 'Sheesh Mahal: Pathway of Mirrors' installation, to show the revival of the craft of Ayina-Kari on a huge scale.
A dark passage leads visitors to the heart of the Pavilion where Pakistan's sacred spaces are celebrated - heralded by drums, bells, and the whirl of a red-robed dervish.
Read More: Emirates Airline Launches Expo 2020 Themed Aircraft.
There are also unique pieces of arts and crafts of Pakistan displaying in Expo 2020. The pavilion will host several entertainment and business events throughout the six months of the Expo.
One of the pavilions is also displaying how Pakistan is combating climate change and displays information and art installations related to the government's Billion-Tree Tsunami project.
Advisor to the Prime Minister of Pakistan for Commerce and Investment Abdul Razak Dawood also visited the pavilion on the first day and socialize with the visitors. He shared his experience on his Twitter account "I am excited and eager to see it start and shape a new era for Pakistan's tourism, culture, and investment."