Punjab To Vaccinate Children Against Typhoid Starting February 1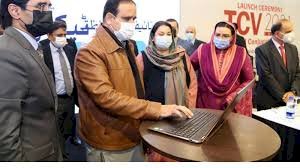 According to the statistics, young children are getting affected with Typhoid fever and die as a result. The government has initiated to stop this spreading and just like Polio, a new vaccination drive will be launched against Typhoid starting February 1, 2021, and is based on 15 days.
In the first phase, children to be vaccinated are in ranges from 9 months to 15 years in 12 districts. In the second phase, 1.93 crore children will get a vaccination in urban areas of 24 districts. Children in rural areas will be covered later.
Chief Minister, Usman Buzdar, while addressing the inauguration ceremony, thanked all the concerned authorities for their collaboration with the hope that this vaccination will eliminate Typhoid from Pakistan soon and the PTI government is striving hard to improve the quality of life, especially mother and child health, he added.
He also revealed the construction of 7 new mother and child hospitals in Lahore, Sialkot, Attock, Mianwali, Layyah, Rajanpur, and Bahawalnagar.
The Sindh government also inaugurated the world's first immunization campaign to save the children against drug-resistant Typhoid in Sindh in November 2019. This campaign was started when more than 10,000 people caught the disease and the majority were children under 15.
Read More: Conjoined Twins Separated By Surgery At Karachi Hospital
This new typhoid conjugate vaccine was approved by WHO typhoid outbreaks and it strengthens the immune system of the child against both typhoid and XDR typhoid.