Schoolboy swallows 54 toy magnets, undergoes life-saving surgery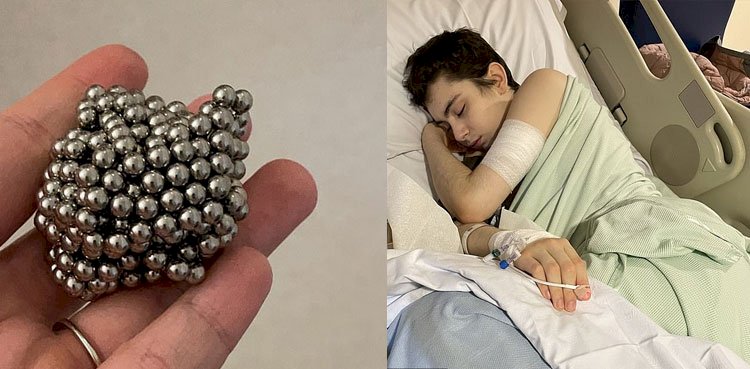 A 12-year-old schoolboy has gone through a life-saving operation after he intentionally swallowed 54 toy magnets as part of an 'experiment'.
Rhiley Morrison, from Prestwich, Greater Manchester, ate the magnetic balls in two separate situations to check if they would make metal objects stick to his stomach and he was also curious about what they would look like when he passed them.
But when the metal balls had still not been found four days later, he informed his mother Paige Ward, 30, that he had swallowed only two 'accidentally'. On hearing this, he was immediately rushed to the hospital by his mother.
Doctors carried out an x-ray and were shocked to find 54 of the powerful magnet toys in his stomach and bowel.
Medics got afraid that the magnets inside might burn through tissue or vital organs, which could be resulted in a possible fatal internal damage, and rushed Rhiley into operation theatre where the objects were taken out during a six-hour surgery.
Rhiley was discharged from the hospital later and is now in the recovery phase at home. His mother is hopeful to share his 16-day hospital torment to update parents about the possible hazards of magnetic ball toys.
According to Paige, mother-of-four, she was just speechless when she heard the number he had swallowed. The doctor's guess was around 25- 30 as per the x-ray report, but when he came out after the operation, they said they got 54.
Another doctor told that he had seen another child who had swallowed two and ended up with part of his bowel removed, so Rhiley was very lucky with 54.
Read More: 40 Deaths, 1008 New Cases Of Coronavirus Reported In Pakistan
Rhiley is greatly interested in science and he loves experiments, finally admitted that he tried to stick magnets to himself, he wanted to check if this copper would stick to his belly while the magnets were in. She got rid of all the magnet toys after this, added by Paige.