UAE And Israel Sign Visa Free Travel Agreement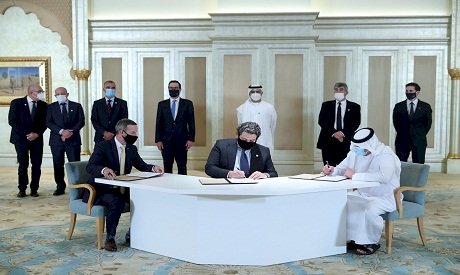 Israel and the United Arab Emirates have agreed upon the decision to allow each other's nationals visa-free travel, therefore, making the UAE citizen, the first one in the Middle East to not require entry permits for visiting Israel.
The visa free deal was signed on Monday after the first-ever Emirati official delegation landed in Israel for a day to discuss, after the deal brokered by the US to normalize ties was signed on September 15th at the White House.
Read More: US Encourages Saudi Arabia To Recognize Israel
Israeli Prime Minister Benjamin Netanyahu, greeted the UAE delegation at Ben Gurion airport near Tel Aviv, while wearing a mask. Netanyahu called the visit "a glorious day for peace".
He further said, "Today, we are making history in a way that will stand for generations," about the Israel-UAE accord, as quoted by Dawn.
In the visit on Monday, the two nations signed 4 agreement, which also includes reciprocal visa-free travel for citizens of both countries. Netanyahu says that the free movement of people will help both countries' economies flourish.
Read More:Pakistan Will Not Recognize Israel As a State: PM Imran Khan
Palestinians have angrily condemned the accord, as they feel betrayed by the fellow Arab-Muslim nations. Turkey has also denounced these agreements and peace deals.