Training Of Kaavan To Travel Combodia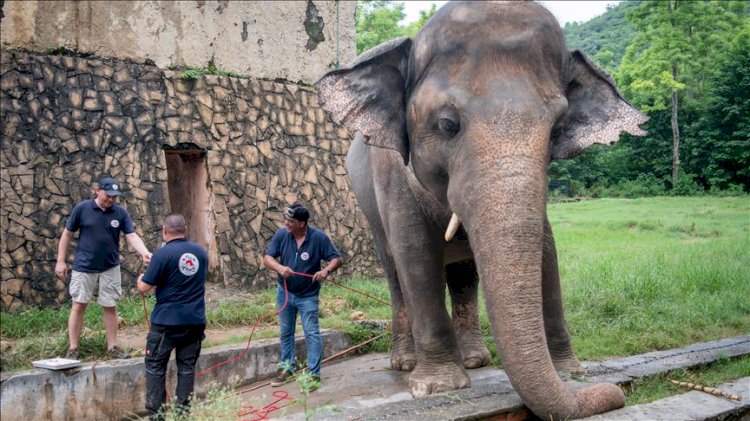 On Friday, a container was placed in the enclosure of lone elephant Kaavan to get him used to the closed space for him to travel to Cambodia.

At Marghazar zoo kaavan will first use a 3.6 X 2.7 meter box for a fortnight, to make him familiar with the closed space for him to travel to an elephant sanctuary in Cambodia. The aimed sanctuary has spread over 25000 acres.
Ministry climate change and ministry of foreign affairs are working closely to complete the legal procedures and if everything proceeds as planned, kaavan will travel to Cambodia in the last part of November.

The decision to transfer kaavan to Cambodia has made because he was facing health and psychological problems due to substandard living facilities and loneliness.

Till the transfer, an Australian company named four paws is looking after the elephant. According to the caretakers, kaavan is obese, lonely, and needs foot care. The zoo lacks the facilities for this. Four paws are ensuring the health of kaavan and helping him lose weight.

His transfer will be all through an expensive air system. The expenses of his transfer are bear by a British musician Cher.

Read More: German Zoo Slaughtering Their Animals To Feed The Other Animals

According to the ministry of climate change, the two Himalayan brown bears are also been trained in cages for their transfer to a sanctuary in Jordan. The two bears suffer psychological problems and need treatment. The two bears will return to Islamabad after being fully recovered. The time will be utilized to upgrade the substandard enclosure in the zoo to make the living standard for bears better.

The situation animals are facing in Pakistan questions about the system and facilities even in 2020. A system overhaul is required to save Pakistan from facing embarrassment in the international community.